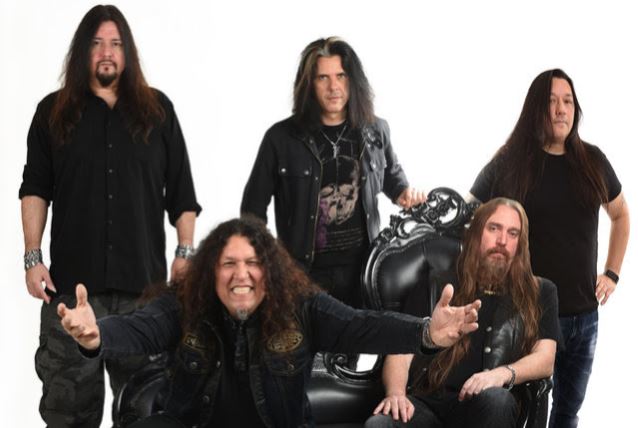 "Brotherhood Of The Snake", the brand new album from legendary bay area thrash metal giants TESTAMENT, has debuted on several sales charts around the globe upon its release on October 28 via Nuclear Blast.
Vocalist Chuck Billy comments:
"On behalf of myself and TESTAMENT, I would like to express the love from the bottom of my metal heart to everyone who has Banged their heads to our new album. Heavy metal forever!"
"Brotherhood Of The Snake" chart positions:
Germany #11
Poland #11
Czech #15
Switzerland #16
Finland #18
USA #20
Austria #23
Canada #24
Australia #24
Italy #28
Belgium (VL) #29
Hungary #31
Belgium (WA) #42
Japan #42
UK #43
Sweden #43
Spain #53
Netherlands #74
The band also kicked off their European tour with AMON AMARTH and label mates GRAND MAGUS the same day. See dates below.
Recently they have released the music video for the brand new song, "The Pale King". You can watch it here. The hi-tech clip was directed, shot and edited by Tommy Jones (SLAYER, DEATH ANGEL, KATAKLYSM) for Videohammer Studios.
As part of the album countdown the band had released another video trailer in which singer Chuck Billy and guitarist Eric Peterson discuss the last two tracks on the album, "Canna Business" and "The Number Game".  Check the video below.
2016-11-13 Lyon (Transbordeur), FR
2016-11-15 Lausanne (Metropole), CH
2016-11-16 Zürich (Komplex 457), CH
2016-11-17 Offenbach (Stadthalle), DE
2016-11-18 Ludwigsburg (MHP Arena), DE
2016-11-19 München (Zenith), DE
2016-11-21 Mailand (Alcatraz), IT
2016-11-22 Wien (Gasometer), AT
2016-11-23 Leipzig (Haus Auensee), DE
2016-11-25 Prague (Forum Karlin), CZ
2016-11-26 Geiselwind (Eventhall), DE
2016-11-27 Berlin (Columbiahalle), DE
2016-12-01 Thessaloniki (Fix Factory Of Sound), GR
2016-12-02 Athen (Fuzz Live Club), GR