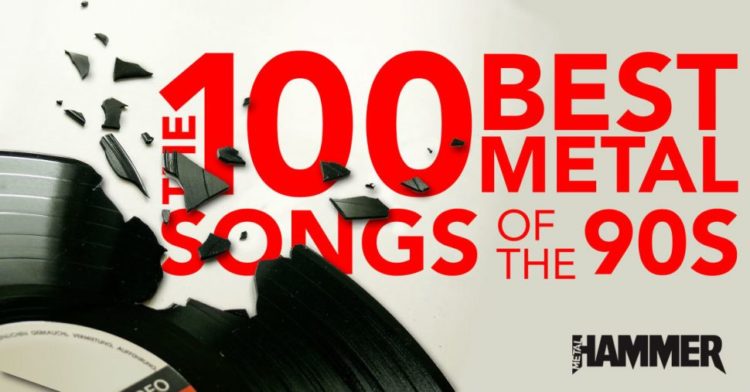 Metal Hammer have compiled a list of 100 best songs of the '90s.
The source wrote: "The '90s were good, weren't they? So bloody good.
"It was the decade that gave us Forrest Gump, Dolly the sheep, Friends, the N64 and Harry Potter. It also gave us Marilyn Manson, Korn, Machine Head and Rage Against the Machine, who are still some of the biggest names in rock and metal. Basically, we love the '90s.
"And to celebrate our undying adoration for the '90s we (along with some of your favorite bands) decided to count down the 100 best songs of the decade. It took ages. But we think this is pretty much the greatest '90s playlist you're ever going to find.
"Please note, we had one rule in place: Only one song per album allowed."
You can check out the full list below, check the source for additional commentary.
Best songs of the '90s according to Metal Hammer:
100. Mr. Bungle – "Carousel"
99. Snot – "Snot"
98. Faith No More – "The Gentle Art Of Making Enemies"
97. Testament – "Riding the Snake"
96. Voivod – "Jack Luminous"
95. Melvins – "Honey Bucket"
94. Napalm Death – "Twist the Knife (Slowly)"
93. Queens of the Stone Age – "Avon"
92. Emperor – "Thus Spake the Nightspirit"
91. Life Of Agony – "Lost At 22"
90. Meshuggah – "New Millennium Cyanide Christ"
89. Opeth – "Face Of Melinda"
88. Metallica – "Until It Sleeps"
87. Corrosion Of Conformity – "Dance of the Dead"
86. Entombed – "Wolverine Blues"
85. Suffocation – "Infecting the Crypts"
84. Megadeth – "Sweating Bullets"
83. Limp Bizkit – "Nookie"
82. Cradle of Filth – "The Forest Whispers My Name"
81. Death – "Trapped in a Corner"
80. Kyuss – "Gardenia"
79. Pearl Jam – "Rearviewmirror"
78. Anthrax – "Only"
77. Immortal – "The Sun No Longer Rises"
76. Electric Wizard – "Wizard In Black"
75. Guns N' Roses – "November Rain"
74. Amorphis – "Black Winter Day"
73. Darkthrone – "Transilvanian Hunger"
72. Ozzy Osbourne – "Mama, I'm Coming Home"
71. In Flames – "Jotun"
70. Nine Inch Nails – "The Day the World Went Away"
69. Eyehategod – "Dixie Whiskey"
68. Tool – "Sober"
67. Pantera – "I'm Broken"
66. Marilyn Manson – "Lunchbox"
65. Deftones – "Engine No. 9"
64. Cathedral – "Hopkins"
63. Type O Negative – "Everything Dies"
62. Down – "Stone The Crow"
61. Sepultura – "Arise"
60. Rage Against the Machine – "Guerilla Radio"
59. Carcass – "Heartwork"
58. Neurosis – "Locust Star"
57. Fear Factory – "Replica"
56. Strapping Young Lad – "Detox"
55. Cradle Of Filth – "Cruelty Brought Thee Orchids"
54. Iron Maiden – "Fear of the Dark"
53. Paradise Lost – "Hallowed Land"
52. Morbid Angel – "Fall From Grace"
51. White Zombie – "More Human Than Human"
50. Opeth – "Demon of the Fall"
49. Entombed – "Left Hand Path"
48. Pantera – "Floods"
47. Monster Magnet – "Space Lord"
46. Refused – "New Noise"
45. Type O Negative – "My Girlfriend's Girlfriend"
44. Meshuggah – "Future Breed Machine"
43. The Dillinger Escape Plan – "43% Burnt"
42. Marilyn Manson – "The Dope Show"
41. Clutch – "I Have the Body of John Wilkes Booth"
40. The Smashing Pumpkins – "Tonight, Tonight"
39. Slayer – "Dead Skin Mask"
38. Faith No More – "Midlife Crisis"
37. Korn – "Falling Away From Me"
36. Cannibal Corpse – "Hammer Smashed Face"
35. Jane's Addiction – "Been Caught Stealing"
34. Darkthrone – "A Blaze in the Northern Sky"
33. Tool – "Stinkfist"
32. Mayhem – "Freezing Moon"
31. Nirvana – "Heart-Shaped Box"
30. Ministry – "Jesus Built My Hotrod"
29. Guns N' Roses – "You Could Be Mine"
28. At the Gates – "Slaughter of the Soul"
27. Pearl Jam – "Alive"
26. Rage Against the Machine – "Bulls on Parade"
25. The Prodigy – "Firestarter"
24. Soundgarden – "Jesus Christ Pose"
23. Rob Zombie – "Dragula"
22. Body Count – "Cop Killer"
21. Korn – "Freak on a Leash"
20. Rammstein – "Du Hast"
19. Judas Priest – "Painkiller"
18. Sepultura – "Refuse/Resist"
17. Pantera – "Cowboys From Hell"
16. Emperor – "I Am the Black Wizards"
15. Megadeth – "Hangar 18"
14. Marilyn Manson – "The Beautiful People"
13. Deftones – "My Own Summer (Shove It)"
12. Alice in Chains – "Rooster"
11. System of a Down – "Sugar"
10. Nirvana – "Smells Like Teen Spirit"
9. Slipknot – "(sic)"
8. Soundgarden – "Black Hole Sun"
7. Nine Inch Nails – "Closer"
6. Metallica – "Sad But True"
5. Sepultura – "Roots Bloody Roots"
4. Rage Against the Machine – "Killing in the Name"
3. Machine Head – "Davidian"
2. Pantera – "Walk"
1. Korn – "Blind"