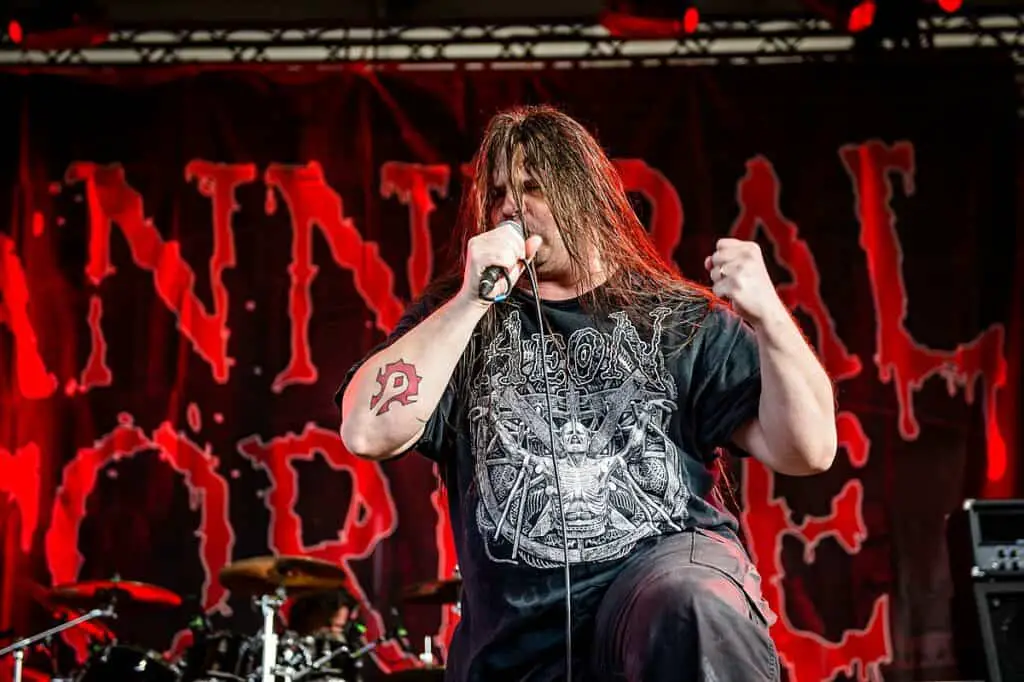 CANNIBAL CORPSE is known for their graphic lyrics and explicit song titles, which can be quite a shock to those who are not familiar with the band. For example, at a recent show, the security guard was completely surprised when Corpsegrinder introduced "I Cum Blood" as the next song. The guy started looking around, clearly saying "what?" and then had a laugh before walking off. Which is basically the perfect reaction.
You can check out the footage, via TikTok, below.
CANNIBAL CORPSE are currently closing out 2022 with a North American headlining tour. The tour runs through December 10th in St. Petersburg, Florida with support provided by DARK FUNERAL, IMMOLATION, and BLACK ANVIL.
CANNIBAL CORPSE continues to tour in support of their critically cherished Violence Unimagined full-length, released last year via Metal Blade Records. Comprising eleven tracks, Violence Unimagined is state of the art death metal played with passion and breathless precision, making for another flawless addition to what is inarguably one of the premier catalogues of the genre. While they continue to do what they do with aplomb, the one substantial change to CANNIBAL CORPSE is the addition of guitarist Erik Rutan to their ranks, joining bassist Alex Webster, founding drummer Paul Mazurkiewicz, guitarist Rob Barrett, and vocalist George "Corpsegrinder" Fisher.