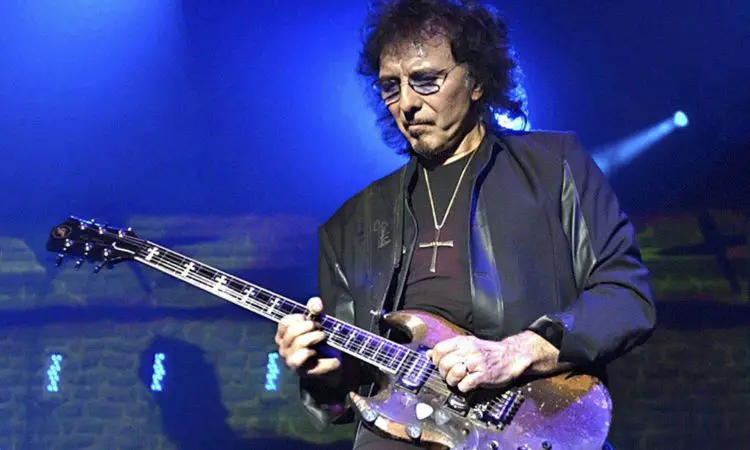 In a new interview with Heavy Consequence, legendary BLACK SABBATH guitarist Tony Iommi looked back on replacing Ozzy Osbourne with Ronnie James Dio in 1979, and the two albums that followed — Heaven & Hell (1980) and The Mob Rules (1981).
"Ozzy was more of a showman, I'd say really. Ozzy would jump about and sing," Iommi said. "But Ronnie was different in that way — he was more a perfectionist. He liked to be more concentrating on his singing than what he did [physically], really. So, they were both very different, and it worked both ways. Ozzy was great at what he did and great with the band, and then Ronnie came along and he made his thing with BLACK SABBATH — he became accepted for what he did."
When asked how he came up with the riff to the song "Heaven and Hell," Iommi responded: "When we were in Los Angeles, we rented a house, first of all, with Ozzy. And then when it went all pear-shaped, Ozzy left and we had the gear set up in one of the lounges of the house. And we had little tape machines, small amplifiers, and a small drum kit – so it wouldn't be too loud, because of the neighbors.
"I think we were just jamming around, and Ronnie … at that point, when we came up with 'Heaven and Hell,' Geezer wasn't with us. Geezer had to leave for a while, while he had some personal problems.
"We didn't want to bring a bass player in to join the band, so Ronnie played bass for a bit, and then I brought a friend in from Birmingham, just to stand in, to play anything, really — guitar, bass, whatever," he continued. "So, that's how we came up with that riff. It's just the initial [sings the repetitive bass part when the vocals first start], then I put a riff to it, and it took form from there — we built it up like we built everything else up.
"Literally, we came up with that riff, and then it goes into the other riffs. But we left a lot of gaps, so Ronnie could sing. It all depends on what you put next to what they're going to sing. And what Ronnie was singing went great, so I knew where to go for the next part of it."
On how the band adjusted the songwriting with Dio, as opposed to Ozzy, Tony said: "We adjusted in the way that Ronnie would sing more on chords. He hadn't sung on riffs, as such, that much. So, it was a learning curve for both, really. It made me play differently, and it made him sing in a different way, as well.
"One particular song, when we were writing, 'Die Young' — I put a part in the middle that drops down to a quieter section. And Ronnie went, 'Oh, you can't do that.' And I said, 'You can! This is what SABBATH is about — we change tempos, we drop down into different parts.' And he went, 'Oh.' And he liked the idea after we'd done it. And it worked for him and it worked for us. Again, it was a learning curve."