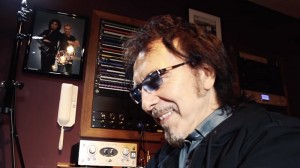 Tony "The Dark Lord" Iommi had a long conversation with Louder Sound where he spoke about many things. Toni allowed us to see his mystical side on many subjects as God and angels. Here are some excerpts of the interview:
About God:
"That statement may be a shock, given the subject matter of so many of Black Sabbath's songs, but I believe in a god – whatever god it is. I definitely believe in angels, because three of them saved my life when I was in my late teens. I'd just passed my driving test and was in my sports car driving on a dual carriageway. I had just overtaken another car when two tyres blew out. I went off the road, the MG flipped over and I hit a tree. I passed out, and when I awoke I smelled petrol but I managed to get out, and as I did so I saw those angels. To this day I really believe they were there; I wasn't stoned. It's been said that they saved me for a purpose, because I went on to invent heavy metal. And you know what? I quite like that idea."
Astral projection:
"When I was much, much younger I used to astrally project. I got really into it. The first time I left my body it was quite frightening. I jumped straight back in again. The best time to do it was just before you go off to sleep. I used to do it a lot – hover about my body, looking down at myself. I tried it again some years later and was quite disappointed to find that I was no longer able."
On ghosts:
It wasn't just me, all of us saw the one at Clearwell Castle [in Gloucestershire]. Sabbath had hired the place out so there was nobody else there. We were rehearsing in the dungeons. Coming up the stairs we saw this figure go into the armoury. Ozzy and I asked: "Who's that?" We went into the armoury and nobody was there. But the room had just one door and no windows. We looked everywhere, including under the table in case someone was winding us up, but there was nobody. It was all very peculiar.
The 1990's albums:
"At the end of the 1980s, Sabbath made some music that I consider good, including 'The Eternal Idol" [1987] and "Headless Cross" ['89], but "Forbidden" [1995] was really crap. We were pushed into a corner. Somebody at the record company suggested we work with Ice-T. My reaction was: "Who the hell is he?" But we met up and he was a nice bloke, and also a big fan of Sabbath. Ernie C [Body Count guitarist] ended up producing "Forbidden," which was a terrible mistake. Ernie tried to get Cozy Powell to play these hip-hop-style drum parts, which, quite rightly, offended him. You don't tell Cozy Powell how to play drums.

"In the 1990s there were a lot of line-up changes and it became hard to drive Sabbath onwards. But I'm very determined – you don't split up the band just because somebody leaves. Find a replacement. Get on with it. I still believed in the band."