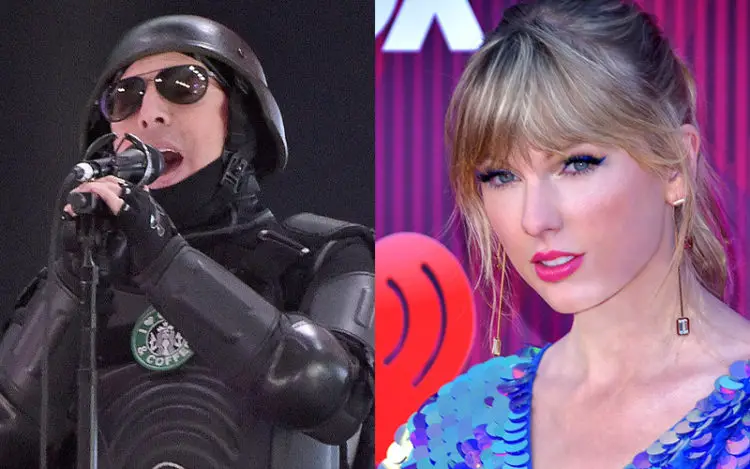 TOOL's new album, Fear Inoculum, has landed at positon No. 1 on the Billboard 200 chart.
The band's first album in 13 years shifted between 270,000 equivalent album units equivalent album units in its first week of release. Of that sum, between 248,000 were in traditional album sales.
According to Billboard, this is a rare case as TOOL achieved them "without the assistance of a concert ticket/album sale redemption offer, any sort of album pre-order/pre-sale access code promotion, or a single merchandise/album bundle — all of which have become the norm for most major albums in recent years as artists struggle to sell albums through more old-fashioned or traditional methods."
Fear Inoculum beat Taylor Swift's Lover for the No. 1 spot on the Billboard 200 chart. Lover after debuting at No. 1 last week, Lover fell to No. 2, with 178,000 album units moved.
In a recent interview with BBC Radio 1's Rock Show With Daniel P Carter, TOOL frontman Maynard James Keenan talked about the new album delay and finally realizing it's the time to get something done.
"I think a lot of it [was] just that age where you want it to be right and we've had some success in the past and the fear of this thing coming out and not being accepted — the fear that it's not as good as it can be — that can be detrimentally crippling," Maynard said.
"Probably in if I had to 'psychology 101' [it], I would have to say, 'Well, yeah, that's why it would take 13 years to write something, because you're paranoid that it's not gonna be the best that it can be and then you second guess every single step that you make,' when it was probably good enough — I shouldn't say good enough — it was fantastic eight years ago.
He continued: "But then the crippling second guessing of yourself sets in, and that psychology and that spiral you get in, it can be extremely daunting. And you can actually not even feel it happening.
"All of a sudden you wake up and it's 13 years later. The hard part is accepting the fact that maybe you're not as important as you think you are and you should probably just get on with it."