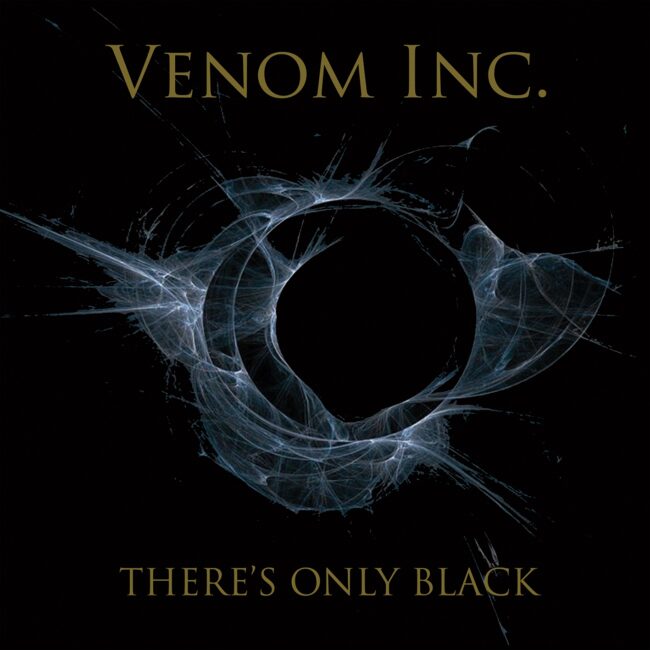 My dear child of the night knows the feeling of listening for the first time a band that you've heard a lot about but have never had the opportunity of checking it out. That's what happens with Venom Inc. a band that I've heard a lot, especially about all the controversies, but have never been able to listen to them. Well, now I have the opportunity with "There's Only Black" an album that I'll admit I had a completely different idea of what it would be. As a matter of fact, to be completely honest, I didn't have an idea at all of how their sonancy would be. I guess I expected something near Venom or something more related to the 1980s. Really not what I've found here. "There's Only Black" goes beyond as it would be expected from the pioneers of a so controvertial subgenre of Metal music as Venom Inc. are the product of guitarist Jeff "Mantas" Dunn – yes, the original – and vocalist/bassist Tony "Demolition Man" Dolan and the new addition of drummer Jeramie 'Warmachine' Kling. As my dear child of the night a power trio as the original Venom used to be in the good old times. The resemblances stop there.
For the best or for the worst, Venom Inc. don't have any musical resemblance with the original band. "There's Only Black" showcases a very different band and sonancy. Tony "Demolition Man" Dolan's voice doesn't sound anything at all compared to Conrad "Cronos" Lant's. In fact, I'm still wondering to whose voice his addresses me. By the way, as a matter of fact, it's his voice that gives the band its unique sonancy. Not only that, but his voice is able to follow the album's bounces from some Thrash Metal influences to some NWOBHM and other modern influences as Death and Black Metal. I mean, "There's Only Black" has a pretty much varied sonancy.
As it can be surprising to some, "How Many Can Die" showcases a pretty intricate guitar riffing with some very interesting picking. My opinion is that here the ones who criticized guitarist Jeff "Mantas" Dunn in the past for not being a technical guitarist are proven wrong. I really don't alive but here in the album he shows to be pretty technical. The flamboyant guitar playing that made his appearance in Venom's early albums is here as well. To be fair with the man, it was not only him but all the band criticized for being poor musicians. It's not what my dear child of the night will find here. "Infinitum," a neck breaker track, has a great guitar and some inspired blast beats.
Ok, "There's Only Black" isn't the most groundbreaking and original album of all times, but it really does a pretty great figure. Easily to be considered one of the best albums of this year. The nicest way of retributing the original band.
Venom Inc. "There's Only Black" will be released on September 23rd via Nuclear Blast Records.
Track Listing:
How Many Can Die
Infinitum
Come to Me
There's Only Black
Tyrant
Don't Feed Me Your Lies
Man As God
Burn Liar Burn
Nine
Rampant
The Dance
Inferno
Watch "There's Only Black" official lyric video here: