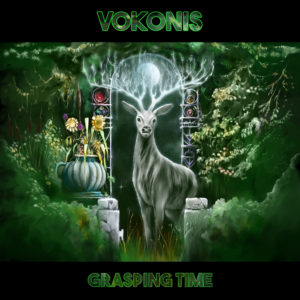 It's very important to listen to all the album to write a review because sometimes the band give you a deceptive idea that can only be taken away with a further look. However, it's not so uncommom to write a review by listening to few tracks because, in general, the first track is idealized to show the band to the fan. I said in general. Neverthless, some bands change completely from track to track, or not completely from track to track, but from a group of tracks building blocks inside an album. I reviewed many albums like this here. Vokonis with "Grasping Time" is one of them.
"Antler Queen," first track of "Grasping Time" at first passes the idea of a different heavy rock band. Different due to many Hevay Metal features layered in their music with some identities of Heavy Rock as the overdriven guitar and the tones of the drums. The instrumental concept of "Antler Queen" is very exciting, but what sparks the attention is the harsh vocals almost gutural which with one more bit of harshness it could be considered as so. But then Vokonis drive away from the Extreme Metal path to reach the Doom Metal realm with second track "Sunless Hymnal" with is long with lots of breaks of tempo and cadence. Here the voice gets even hollower interweaven with clean moments. Initial Heavy Rock impression goes completely away. The impression comes again in "I Hear the Siren" which sounds much more Heavy Rock than Doom. "I Hear the Siren" has its moments of fast tempo driving which colors the song giving it a close Heavy Rock attitude. Acid guitar solos with the 1970s like pounding drumming help a lot with the impression. It's the track that instrumentally sounds a lot as the 1970s along with the short "Exiled" which seems to be intrinsecally connected to "I Hear the Siren." In fact, the two shortest tracks "Exiled" and "Ashes" work as dividing two moments of "Grasping Time." From them on, the album gets more intimistic with slower cadences and a sweeter, but full of despair clean vocal.
"Grasping Time" is an album to hear from head to toes. It gives the fan an opportunity to discover track by track how a band can motivate and change alongside an album.
Vokonis "Grasping Time" was released on September 06th via The Sign Records.
Track Listing:
Antler Queen
Sunless Hymnal
I Hear the Siren
Exiled
Ashes
Embers
Grasping Time
Fading Lights
Watch "Grasping Time" official music video here: