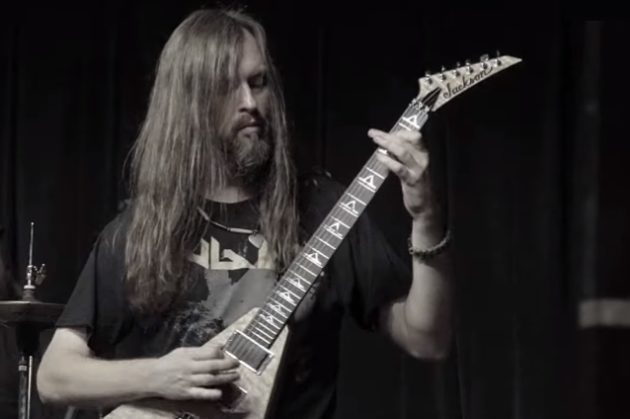 Elizabeth Herbert, wife of late ALL THAT REMAINS guitarist Oliver "Oli" Herbert, gave first interview since her husband's death, who passed away nearly four years ago.
"I absolutely did not kill my husband," she told Daily Mail.
Elizabeth says she's been targeted by police who tried to 'railroad' her into a confession, and by Oli's friends who suspect she drugged him and possibly shoved him into the water a week after convincing him to sign a will granting her everything, including his future earnings from his band, ALL THAT REMAINS — known for songs such as "Two Weeks" and "What If I Was Nothing."
She also took a swipe at the lead detective over the way she was treated after she became a target in the investigation.
"You could tell he was fan of the band," Elizabeth said. "Here he is, this country cop, and he's working on a rock star who died. I think he got star struck and was on a power trip."
Oli was found dead on October 16, 2018 at the edge of the pond on his Stafford Springs, Connecticut property. He was reported missing by his wife about 3 p.m., and his body was found by police face down at the edge of the pond where the water was only a few inches deep. The medical examiner's office conducted an autopsy showing that Oli had three prescription drugs in his system — the antipsychotic olanzapine, the antidepressant citalopram, and Ambien. It also said: "Mr. Herbert's past medical history is reportedly significant for marijuana use."
Herbert signed a will just week before his passing. The will was notarized by a person who was a friend of Herbert and his wife, Elizabeth Herbert, and who works at the dealership, on October 9.
The will names Elizabeth Herbert as executor and sole benefactor. It says that Oliver Herber's sister, Cynthia Herbert, should not become executor or receive anything from his estate. The will also states that Elizabeth Herbert should get all "property as well as any current or future earnings."
One of the witnesses who signed the will, Alexander Mandel, also works at the dealership.