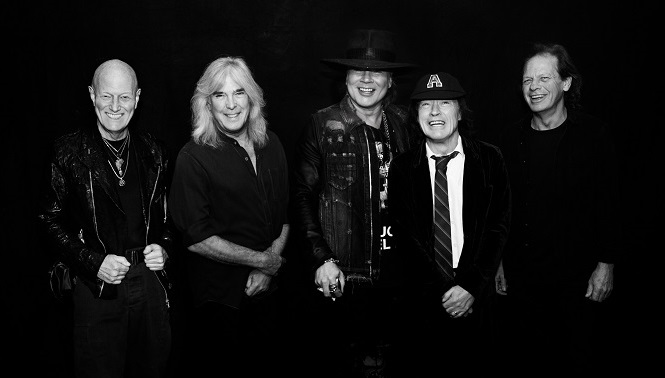 AC/DC drummer Chris Slade says that his "lips are sealed" when it comes to answering questions about the possibility of the band making a new studio album with Axl Rose on vocals.
Singer Angry Anderson of the veteran Australian act ROSE TATTOO said in an interview with The Rockpit that Angus told him he is at work on new AC/DC music and intends to have GUNS N' ROSES frontman Axl Rose — who took Johnson's place on the road in 2016 — sing on the LP.
Asked by Duke TV if there are plans for AC/DC to record a new album with Axl, Slade said : "My lips are sealed. And if I knew, I couldn't say a word anyway. What I usually say is if I tell you, I have to kill you." He laughed again and continued: "Which, perhaps, is not in good taste. I couldn't even start to answer that, I'm afraid."
With Axl on vocals, AC/DC broke out a number of somewhat more rare cuts during the band's European and American shows two years ago, including "Given The Dog A Bone", "Rock 'N' Roll Damnation", "Riff Raff", "Touch Too Much" and "If You Want Blood (You've Got It)" .
"Axl, he actually asked… I was standing right next to him when he asked Angus, 'Can we do these songs?'" Slade said. "And I love playing 'Riff Raff', and I always have. In fact, we do it with [my solo band] TIMELINE. All those songs were great, and the fans loved them — absolutely loved it. Because they'd like to hear those songs too. Axl is a big fan, you see, and still is, of AC/DC. Those are songs that he would like AC/DC to play — those newer… Of course, they're old songs, but new for the band playing onstage. I don't think they played 'Riff Raff' on stage for about 25 years, maybe even 30. I know they used to open with it, didn't they? But they hadn't played it since then."
Chris also spoke about Malcolm Young, who was diagnosed with dementia several years ago and bowed out before the sessions for "Rock Or Bust" began. The guitarist died this past November.
"He was a genius — genius rhythm player," Slade told Duke TV. "Probably, I always, the greatest rhythm player ever born. Just tremendous. Wonderful timing. Just absolutely brilliant. He made my job so easy. The only time he ever said anything to me was I had an energy massage. I remember it was in New Mexico, on the road, and the gig was the next day. So I had this massage of this American Indian lady. And she said, 'Tomorrow, you'll have so much energy, you won't know how to deal with it.' And I went, 'Yeah. Okay.' And I got to the show that night, and I really was wound up. 'Cause I've never done drugs, by the way, so it's not an analogy. I've never done drugs in my life. And there was one time we were playing half way through the show, and Malcolm leans over to me and he goes, 'You're pushing. You're rushing ahead.' And I was. And I never do that — I don't rush or drag. And that was the only time he ever sort of said, 'Maybe you're doing it wrong.'"
Chris continued: "[Malcolm] was a great guy and a genius songwriter — him and Angus — and a genius guitarist. He's greatly missed. Stevie did a great job — there's no doubt about that," referring to Stevie Young, Angus and Malcolm's nephew, who took Malcolm's place in the band prior to the recording of "Rock Or Bust". "It's a hard act to follow, to follow Malcolm — one of the most difficult, I would say, in the music business. There aren't many people who could do that, and Stevie did a great job."