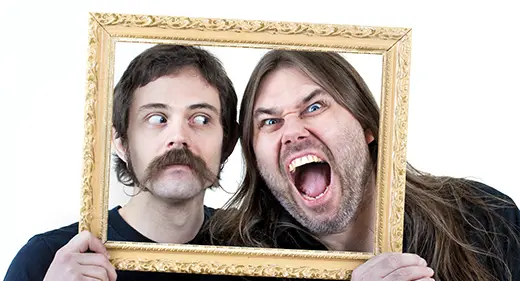 The worldwide release of the sophomore full-length album "The Northern Sanctuary" by Swedish progressive Death Metal duo WITHERSCAPE on July 22nd, 2016 (Italian street date; July 29th!) via Century Media Records is drawing nearer. Therefore, a next song off the release is being debuted online now.
Check out the extremely catchy track "In The Eyes Of Idols" in a lyric-video designed by Cloud Music Typography below.
Multi-instrumentalist and producer Dan Swanö (ex Edge Of Sanity/Bloodbath, Nightingale, etc.), who partners up with fellow Swedish multi-instrumentalist Ragnar Widerberg in WITHERSCAPE, checked in to comment about the song and the album's lyrical storyline as follows:
"There is a 50 year jump in the conceptual time line since "The Inheritance". The Northern Sanctuary" picks up where we left off with the "The New Tomorrow" EP. The main character "Mannen i vitt" (The man in white) has now restored the house where all the horror initially happened and "Fristaden i Norr" (The Northern Sanctuary) is open for business! He rents out rooms to people from the big cities, who are aiming for some peaceful northern Swedish silence.  But the entity still haunts the house and "Mannen i vitt" is possessed by it, so consequently he/it does terrible things to the "patients". Since the house is built on one of the gates to hell, there's a ritual taking place, opening the hellish dimension from where the evil entity once came, so it can go back there…"
Lyricist Paul Kuhr (Novembers Doom) fleshed out the story invented by the band and here are his complimentary own words on the lyrics for "In The Eyes Of Idols":
"Daily life in the Sanctuary begins. Breakfast, social interaction, Aqua Therapy. The man in white struggles with his faith and prayer against the conventional methods he uses to cure the sick. Extreme procedures uncover oddities in behavior with the most severely mentally ill. Pushing the patients to their limits uncover "Gifts" within the strong. Unexplainable, and beautiful, powers that Science Fiction is based on. Praying for the answers, the man in white is met with other thoughts…"
The album's opening track, "Wake Of Infinity", was previously launched online and can be checked out here.
The track-listing for WITHERSCAPE's "The Northern Sanctuary" album reads as follows:
WITHERSCAPE – "The Northern Sanctuary" (46:59):
1. Wake Of Infinity (04:38)
2. In The Eyes Of Idols (03:58)
3. Rapture Ballet (04:25)
4. The Examiner (05:03)
5. Marionette (04:37)
6. Divinity (03:02)
7. God Of Ruin (05:32)
8. The Northern Sanctuary (13:44)
9. Vila I Frid (01:54)