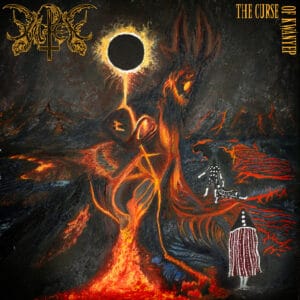 One of the things that all metallers love is to have their favorite band remembered. It could be honored by another band, have an article, or articles in magazines, have the name on social media, to be quoted or have their music in a show, whatever. So, the first I did when I got this Xalpen "The Curse of Kwanyep" was to get a hold on "Diabolica," a Angeles del Infierno cover. Angeles del Infierno happen to be one of the zillion Metal bands Iove dearly – It doesn't mean I know everything or have everything about them, all right? I went right to it as a wolf go to sheep when starving – Well, I do that too when I'm starving. Knowing Xalpen as I know, I reviewed their 2021's album "Sawken Xo On" and by it we could see that the band is pretty competent on what they do. Hence, the cover only could be great as it really was. Xalpen respected Angeles del Infierno sonancy and slightely added their own in small doses by subtly adding more speed to some parts of the song.
As seen on the previous album, Xalpen are a Black Metal force with a different thematic. The band explores Pre-columbian ancient rites and beliefs with fierce position. As their press release says Xalpen have real conviction and complete shamanic devotion by channeling ritualistic vibrations within the black arts and the spiritual development. Guided by ancestral traditions of Ancient occult knowledge. Euphoria, ecstasy, trance and demoniac commitment have taken form between the different hemispheres of the planet. Compared to its predecessor "The Curse of Kwanyep" is less instrumentwise raw, but that doesn't mean the has lost their natural power and vigour. On the opposite, the album doesn't lack any of them. "Kòlpèwsh," for instance, shows sharp guitars with not usual guitar techniques as the octavating. It's no impression that this album showcases a band more worried with evolving its sonancy. Here Xalpen added more out of the music elements as background noises and other elements as some parts of a shamanic ritual as in the album tittle "The Curse of Kwanyep."
"The Curse of Kwanyep" ilustrates a Xalpen slight change of heart. This album isn't as raw as its predecessor "Sawken Xo On" by all means. It's a natural thing. When a band matures it's natural that their music evolves as well.
Xalpen "The Curse of Kwanyep" will be released on March 24th via Black Lodge Records.
Track Listing:
K´yewé (Intro)
Chenke
Kòlpèwsh
The Curse of Kwanyep
The Beast from the East
Kash Wayèwèn Qèr
Mah-Ka Xalpen (Chant)
Daughters of the Nightside
Moon-Woman
Hain Koijn Harsho (Instrumental)
Diabolica
Watch "Moon-Woman" official music video