Today's journey is o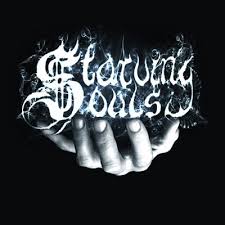 n the sea. Or about the sea and the millenary Ukrainian traditions about it; about death, and others. We're going to travel into nightmarish views of living, and about how we die. We're talking to Starving Souls, a melodic death metal band from Ukraine.
Metal Addicts: "Save Our Souls" is your first full length album, and we don't know much about the band. Could you tell us about the band? When was it formed? What are the influences? Who are the members? Why the name Starving Souls?
Starving Souls: Hi. Starving Souls band was created in 2007. It was a long way. At that time I played in several projects, but I did not leave the desire to create own group. I gathered a few friends and we started to write the music. Demo "Awake" was recorded the same year. March 23, 2008 we played the first concert, this date is just considered as a group birthday. Then there were some local concerts and several concerts in other cities. In 2009 we recorded the first single "Old Man's Deep".
Spring 2011 the new drummer Pytyrim joined the band. And in autumn new bass guitarist Guide joined us. We decided not to take second guitarist, and the places in the parts, which seemed unfinished to us, we just filled with the keyboards.
In 2012 we recorded the second single "Cargo 200". A full-length album recording began in 2013. The work was very slow, we constantly get stuck at different stages of recording. As a result, work on the album was delayed for more than two years.
Metal Addicts: Why did we choose the name Starving Souls?
Starving Souls: The guitarist from the first group lineup came up with it. At that time I played in another band and we toured a lot. Guys were bursting to go into action: they wanted to play music, to go on stage, to travel to other cities, to record on the studio. So the name appeared that way. In time it came with a philosophical component. Every living creature has a soul that craves to live and nothing can stop that desire, even death.
Who inspires us? There are a lot of them. If you take just metal bands, it is likely Hypocrisy, In Flames, Opeth, Sadist. Non-metal are Bach, Beethoven, Wagner, Jean-Michel Jarre, Bobby McFerrin, Hans Zimmer, Two Steps from Hell. These are just the main musicians and groups, but in fact there are many more.
Metal Addicts: The album cover art is a bit unusual, a ship facing a furious sea storm, almost sinking. Although the album is not a conceptual one, I could see some relation among some songs. What was the inspiration to the album?
Starving Souls: When we started to design the booklet we took this very seriously. On the one hand, we wanted to reflect the main theme of the album – the most tragic moment of life, a moment before death. This is the main theme of the whole album. We took the most vivid of the images, which are presented on this album – the image of a sailor. This topic is touched in two songs: "Old Man's Deep" and "Into the Abyss". We all came out of the ocean, it is our cradle. And from time to time, the sea takes a new sacrifice. At the beginning of the composition prayer on the radio is terminated due to noise and then the ship enters the storm. All sailors perish. But according to the ancient legend their souls are embodied in dolphins. This is reflected on the cover and in the booklet. Also these pictures you can see in our video. On the other hand, we wanted to make a non-standard design for metal music. Still, the theme of the sea is not as widespread in heavy metal, like other subjects: religion, philosophy, and the occultism. Despite the fact that we have recorded only one album so far, we had already formed a certain style of stuff presentation and the cover is one of those things.
Metal Addicts: Diamhea from the Encyclopaedia Metallum brought up something very interesting. He said that Russian and Ukranian melodic death metal bands are very far ahead of the pack. I couldn't agree more. But I'll go farther saying that Eastern European melodeath are creating kind of a proper characteristic inside it. I mean, the guitar lines are much more creative than everyone else, vocalists try harder to catch the atmosphere of the song and, most of times sing, not forgetting the roars and howls, of course. Do you share this opinion?
Starving Souls: It's a quite extensive question. On the one hand, the history of Eastern Europe is closely united. Singing tradition is widespread in Ukrainian culture. We have a huge number of folk songs, which have been accumulated for more than 1000 years. This is enormous amount of material, and it could not leave its mark on heavy metal. On the whole Ukrainians are described as a singing nation. On the other hand the formation of our metal culture has only just begun. There are no real world-class bands. There are only a few bands that have achieved a certain international fame. Most bands just copy each other or foreign colleagues. For those who belong to the creation seriously it is very hard to progress. They don't see the competitors in their surroundings. They have to compete directly with top foreign musicians if they want to present themselves and their work better and qualitative. There are few such musicians, but they exist and form an impression about our scene for world metal community. If we talk about this in more detail we will need a separate interview devoted to the question. Too many negative factors influenced the metal culture in our country. It is one of the youngest in the world and it has a bright future.
Metal Addicts: I've been interviewing some bands, mostly new bands, and I like to ask them how is the metal scene in their places, if there are many places to play, how are the fans like, and things like that. What can you tell us?
Starving Souls: Metal scene in Ukraine started to develop rapidly in 90s. People thronged to any concerts. Later the spree went down and people began to choose specific bands and events. This lasted until 2007. Then the economic and political crisis, and now the revolution and the war minimized it. Metal scene in Ukraine lives, but pulse is thready. Young bands practically have no prospects inside the country. Now you can play concerts in approximately 25 cities in theory, but in practice a maximum is 8-10. In other words, it is one small tour. Several thematic festivals is all that we have in Ukraine. Therefore, bands want at any costs to escape to the West, where metal culture is more developed, it is possible to tour more and cover a different audience. Lately we started to look to the East. This music is very popular there and due to the fact that the population of the eastern countries is very large, it is possible to tour a lot and present your work to enormous amount of people.
Metal Addicts: I was really amazed by Old Man's Deep video. Whose concept was that? Was it too difficult to produce the cartoon?
"Old Man's Deep" is a first Starving Souls concept composition. In fact it is an unofficial video. We just united our performance with an old cartoon. This is a full-length cartoon, which presents the fairytales and myths of the north and is called "The laughter and the sorrow near the White Sea". Arkhangelsk is the first northern port of the Russian Empire, the North Gate. But long before the arrival of Russians there lived people who were fishers. The last history in cartoon is called "About Ivan and Adrian." It became the basis for the song. And we used parts of the cartoon for maximum visualization of composition so people could understand what it is about. We wanted to make a major video, but due to annexation of Crimea we had to renounce this idea. We have already scheduled the filming location and more, but all is preserved for a while. In other places there is no suitable surrounding. Although perhaps if we manage to find a suitable location we will return to the idea of ​​shooting this video. In fact, we have ideas for clips to 5 songs from this album. How many we would realize? I do not know. All depends on funding. The most powerful and the conceptual idea of ​​the video is for "Into the Abyss". But its implementation needs not less than 30 000 dollars. We simply don't have such money. But we do not lose heart and continue to seek a solution for all our creative plans.