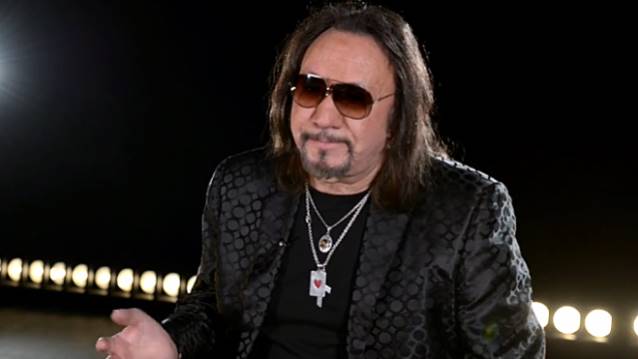 Original KISS guitarist Ace Frehley has called out his former band and Paul Stanley for allegedly using pre-recorded tracks during the band's performances.
During his Saturday's (June 11) concert at the Palladium in New York City — prior to launching into the KISS classic "Detroit Rock City" with his solo band — Frehley told the crowd: "This song's a great song written by Mr. Paul Stanley. By the way, we don't use tapes. Anyway, this one's about a city in the Midwest on Lake Michigan. It's called 'Detroit Rock City'."
Ace's comments came less than a week after KISS drummer Eric Singer made a "rare" mistake during the band's concert in Antwerp, Belgium this past Monday, which fans found as proof that KISS is using pre-recorded tracks during its performances.
Several KISS fans who attended the group's show at Sportpaleis have shared video of KISS kicking off the set with "Detroit Rock City," the classic song that has consistently served as the live opener for the band's live performances in recent years.
At the end of the song, Singer, who has played with KISS on and off since 1991, apparently "forgets to rest for a measure," according to YouTube commenter Austin Ogonoski, "instead continuing to play the standard beat for two additional measures."
After "Eric realizes he messes up," he "begins the drumroll/breakdown a measure late," which "means Paul's [Stanley] vocal track is out of sync with what the band is actually playing," Austin explains. "Paul's track plays 'Everybody's gonna leave their SEAT,' completely out of sync with the song and when nobody is at a mic."