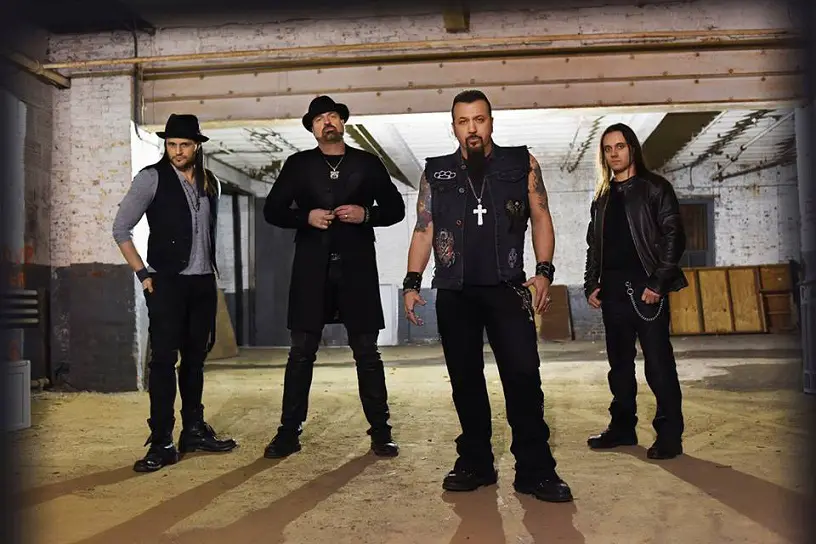 Hard rock icons ADRENALINE MOB have released a lyrics video debut of their new single, "Chasing Dragons", taken from their upcoming album, "We The People".  Check it out below.
Download "Chasing Dragons" instantly when you pre-order their new album via all digital platforms, reserve your copy here.
ADRENALINE MOB was formed by guitar aficionado Mike Orlando and iconic vocalist Russell Allen (Symphony X, Trans-Siberian Orchestra, Star One, Allen-Lande) in 2012 with support from acclaimed drummer Mike Portnoy (Dream Theater) and bassist John Moyer on their critically-acclaimed debut, "Omertá". Due to scheduling conflicts, Portnoy departed the band and was replaced by drum legend A.J. Pero (Twisted Sister) for their following releases ("Men of Honor" & "Dearly Departed") until his untimely death in 2015. Orlando and Allen took a break to process the loss of their friend and band mate while focusing on their respective side projects. The pair reformed in early 2016 for their upcoming release, "We The People", with a new line-up featuring acclaimed bassist Dave Z. (Trans-Siberian Orchestra) and drummer Jordan Cannata.
"We The People" was self-recorded, mixed and mastered at Orlando's Sonic Stomp Studios and features 13 energetic, fist-raising and foot-stomping tracks that put the hard back in hard rock and the heavy back in heavy metal.
"We The People" Track Listing:
1. King Of The Ring
2. We The People
3. The Killer's Inside
4. Bleeding Hands
5. Chasing Dragons
6. Til the Head Explodes
7. What You're Made Of
8. Raise 'Em Up
9. Ignorance & Greed
10. Blind Leading The Blind
11. Violent State Of Mind
12. Lords Of Thunder
13. Rebel Yell
ADRENALINE MOB will commence the start of their world tour with a month-long headlining jaunt across the U.S. featuring direct support from The Wild. Dates can be found listed below. Tickets are on sale now!
ADRENALINE MOB – U.S. Headlining Tour:
Friday, June 16th – Poughkeepsie, NY @ The Loft
Saturday, June 17th – New York, NY @ Marlin Room
Sunday, June 18th – Haverhill, MA @ The Whiskey Barrell
Tuesday, June 20th – Pittsburgh, PA @ Hard Rock
Wednesday, June 21st – Rochester, NY @ Harmony House
Thursday, June 22nd – Flint, MI @ The Machine Shop
Friday, June 23rd – Joliet, IL @ The Forge
June, 24th – Racine, Wisconsin – Route 20 Outhouse
Sunday, June 25th – St. Louis, MO @ Fubar
Tuesday, June 27th – Denver, CO @ Marquis Theater
Wednesday, June 28th – Salt Lake City, UT @ Royal Bar
Thursday, June 29th – Idaho Falls, ID @ The Gem
Saturday, July 1st – Everett, WA @ Tony V Garage
July 2nd – Grants Pass, OR – Cedarwood Saloon
Monday, July 3rd – San Francisco, CA @ Slim's
July 5th – Fullerton, CA – Slidebar
Thursday, July 6th – Las Vegas, NV @ Beauty Bar
Friday, July 7th – West Hollywood, CA @ Viper Room
Saturday, July 8th – San Diego, CA @ Brick By Brick
Sunday, July 9th – Scottsdale, AZ @ Pub Rock
Tuesday, July 11th – Dallas, TX @ Gas Monkey
Wednesday, July 12th – Austin, TX @ Come and Take It Live
Friday, July 14th – St. Petersburg, FL @ State Theater
Saturday, July 15th – Sanford, FL @ West End Trading Co.
Sunday, July 16th – Jacksonville, FL @ 1904 Music Hall
Wednesday, July 19th – Wilmington, NC @ The Throne Theater
Thursday, July 20th – Baltimore, MD @ Baltimore Soundstage
Friday, July 21st – Easton, PA @ One Centre Square
Saturday, July 22nd – Clifton, NJ @ Dingbatz