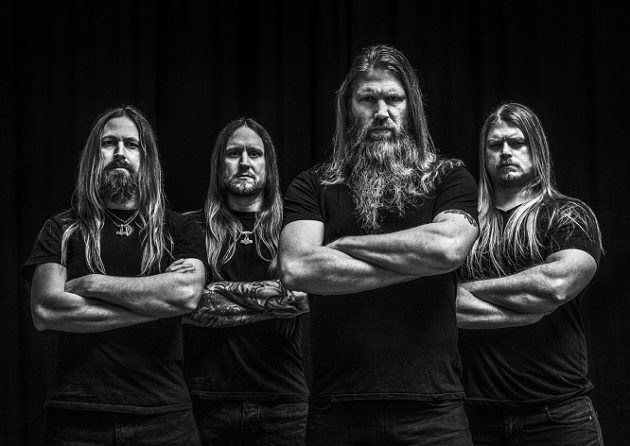 No doubt about AMON AMARTH being one of the biggest metal bands in the World right now. The Swedes have a long history with Metal Blade Records that dates back to 1998 when they released their debut album "Once Sent From The Golden Hall" via Metal Blade!
"Once Sent From The Golden Hall" and "The Avenger" were the first two AMON AMARTH albums that received the MB Originals-treatment in January, followed by "The Crusher" and "Versus The World" in May. Now it's time to give the albums #5 and #6 in the bands catalogue – "Fate Of Norns" and "With Oden On Our Side" – the same luxurious treatment.
Both albums will be released with 400g heavy cardboard spine sleeves (inside out print), 60x60cm two-sided artwork posters and 250g inserts.
The vinyls are part of the Metal Blade Originals series that started last year with the re-issues few of the SLAYER albums.
Metal Blade Records will re-issue all AMON AMARTH albums chronologically in the near future. Hence there is a limited specially designed slipcase-box available (exclusively at EMP) fitting the complete AMON AMARTH back catalog! Get it while supplies last.
Pre-order your copies now at EMP or at our ebay-store!
Fate Of Norns "Originals-Series" LP re-issue
— 180g black vinyl
— orange-brown-marbled vinyl (EU exclusive – ltd. to 500)
— silver-grey-marbled vinyl (EMP exclusive – ltd. to 300)
— flame splatter vinyl (eBay exclusive – ltd. to 200)
— clear vinyl (US exclusive – ltd. to 200)
— orange vinyl (US exclusive – ltd. to 200)
— brown-marbled vinyl (US exclusive – ltd. to 100)
With Oden On Our Side "Originals-Series" LP re-issue
— 180g black vinyl
— golden yellow vinyl (EU exclusive – ltd. to 500)
— silver-grey-marbled vinyl (EMP exclusive – ltd. to 300)
— flame-splatter vinyl (eBay exclusive – ltd. to 200)
— clear vinyl (US exclusive – ltd. to 200)
— yellow vinyl (US exclusive – ltd. to 200)
— dahlia orange-marbled vinyl (US exclusive – ltd. to 100)