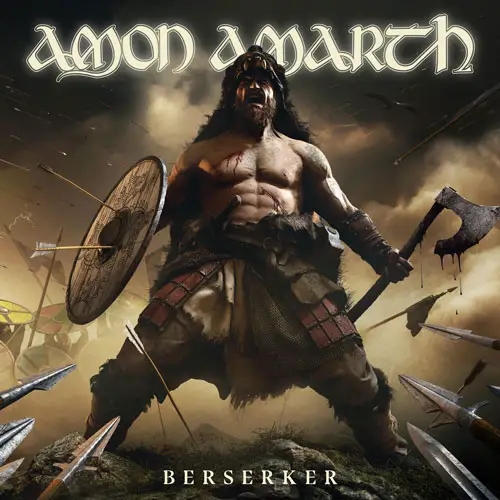 Looking at the substantial and storied legacy of the wonder that is Amon Amarth up to this point is to follow one of the best success stories in modern metal as it's after decades of pulling their weight that they've come to become one of metal's best acts. Their brand of melodic death metal revolving around Norse mythology and the like has become the sort of thing that several bands have taken influence from, and their sound has changed a lot over the years as we've gotten a pretty solid array of heaviness while the core essentials of Amon Amarth have remained relatively the same. Coming off of their last and most successful record, "Jomsviking", it was hard to know where Amon Amarth was going to go with their next effort. I was initially a tad worried at first, but after absorbing the excellence of "Berserker", I couldn't be any more pleased with the result.

The single thing that worried me of late was how there was a recent interview saying how Amon Amarth would like to become an arena band, and that put the thought in my head that they might start selling out or becoming more mainstream. If I could I'd hire somehow to slap the f*ck out of me for thinking such a foolish and stupid thing. Hearing the first singles filled me with hope, but it's with the full-blown glory of "Berserker" that my doubts were shut right the f*ck down as it's just about every morsel and every battle within this record that Amon Amarth yet again delivers with a staggering amount of power, catchiness, and sheer excellence. And where the past few albums have seen the heaviness getting slightly toned down more and more with each release ever since "Surtur Rising", it's here that it's brought back up another few notches and it's for the entirety of "Berserker" that Amon Amarth gives us a display the likes of which is expected from them.

If you've never listened to the glory that is Amon Amarth before, I'm not gonna sit here and lie to you saying that this new record is the best place to start, but I'd also be lying if I said it wasn't a damn fine place to kick things off from. Everything we've come to expect from this band is manifested spectacularly within "Berserker" to where each track has some classic Amon Amarth flavor to offer us in a glory new song that goes perfectly with the rest of them as all twelve songs are anthems that are all but infectious and an absolute joy to get behind. It's hard sometimes for a band to keep dishing out material that's simply fun to listen to, and Amon Amarth have become experts with such a craft with the whole essence of this record being a tremendous rallying cry as we get caught behind not only the immensely entertaining singles but invincible tracks like "Shield Wall", "Ironside", and "When Once Again We Can Set Our Sails" albeit every piece is no less than a true riot that never gets old no matter how many spins you blast it for.

This is the sort of record that many of us have been waiting for this year: big name, massive power, and a grand presence that simply can't be denied for even a second as it's with their eleventh full-length album that Amon Amarth has yet again hit the nail right on the head! There's virtually nothing about this record that I could ask to be any different than what's been masterfully crafted with "Berserker". If it was their last record that propelled them even more somehow then it's with this massive record that Amon Amarth are well on their way to becoming a more than worthy playing dominating arenas across the world.

"Berserker" releases on May 3rd via Metal Blade Records! You can listen to the single, "Crack the Sky", via YouTube below and pre-order the album via iTunes here.
Track Listing:
Fafner's Gold
Crack the Sky
Mjölner, Hammer of Thor
Shield Wall
Valkyria
Raven's Flight
Ironside
The Berserker at Stamford Bridge
When Once Again We Can Set Our Sails
Skoll and Hati
Wings of Eagles
Into the Dark