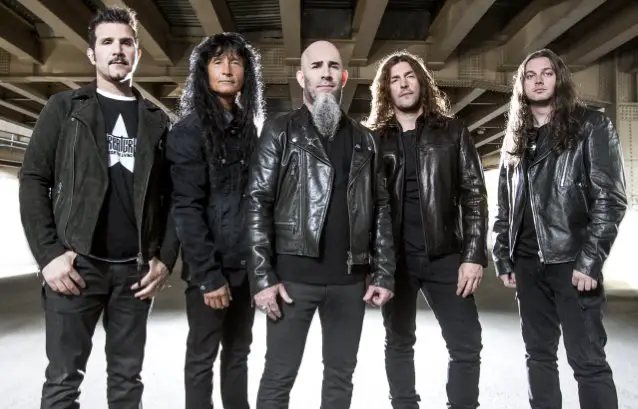 Thrash legends ANTHRAX and Metalcore forefathers KILLSWITCH ENGAGE announce today that they will hit the road this Spring to co-headline a 27-date North American tour, presented by SiriusXM. The bands' itinerary will also include an April 15 appearance at the Texas Independence Festival in Austin as well as each band headlining two solo shows separate from the double bill. With KSE and ANTHRAX rotating the closing slot over the course of the dates, the tour will hit the ground on March 29 in Montclair, NJ and then criss-cross the continent, wrapping up in Boston on May 7. The intense and dynamic THE DEVIL WEARS PRADA will provide direct support on all dates. Tickets go on sale to the general public this Friday, 12/16 at 10AM local time. Log on to anthrax.com – killswitchengage.com or tdwpband.com for all details regarding ticket purchasing and pre-sales.
For ANTHRAX, these dates are in support of the band's critically-celebrated 11th album, For All Kings (Megaforce), released last February. Celebrating its 35th anniversary, 2016 has been action-packed for ANTHRAX. For All Kings debuted at #1 on Billboard's Hard Rock Albums chart and #9 on the Billboard 200, the band's second Top 10 chart entry. Two striking music videos made with director Jack Bennett, one over-the-top grizzly, the other an innovative stop-motion piece, an appearance on "Late Night with Seth Meyers" that paired the band with the iconic Robert De Niro, and sharing stages with bands like Iron Maiden, Lamb of God, Avenged Sevenfold, and fellow Big Four members Slayer, were just a few of the highlights.
"Anthrax and Killswitch will be a really good blend for fans," said ANTHRAX's Charlie Benante. "We both play metal, but we play two different forms of the genre. I think fans of both bands are in for a 'Total Explosion of the Senses.'" Added the band's Frank Bello, "This Anthrax/KsE tour is a powerful ball of energy ready to unleash the metal in the U.S." "Anthrax and Killswitch – KillThrax! Holy crap!," said Scott Ian. "I am so excited about these upcoming shows with our old friends Killswitch Engage. Get out your pit pants and start stretching now for all the glorious action and fun!"
KILLSWITCH ENGAGE released the universally regarded Incarnate (Roadrunner) this past March, which debuted #6 on the Billboard 200, and #1 on Billboard's Hard Rock Album chart.
Tour dates:
MARCH
29 The Wellmont Theatre, Montclair, NJ *
30 Express Live, Columbus, OH **
31 Arcada Theatre, St. Charles, IL (Anthrax only)
31 The International, Knoxville, TN (KsE only)
APRIL
1 Little River Casino, Manistee, MI (Anthrax only)
1 Norva, Norfolk, VA (KsE only)
3 The Fillmore, Silver Springs, MD *
4 The Dome at Oakdale, Wallingford, CT *
5 Electric Factory, Philadelphia, PA **
7 20 Monroe Live, Grand Rapids, MI *
8 The Fillmore, Detroit, MI **
9 Stage AE, Pittsburgh, PA *
11 The Ritz, Raleigh, NC **
12 Tabernacle, Atlanta, GA **
13 House of Blues, Orlando, FL *
15 Texas Independence Festival @ Grizzly Hall, Austin, TX **
16 Boggus Ford Events Center, Pharr, TX **
17 House of Blues, Houston, TX *
18 House of Blues, Dallas, TX **
20 The Marquee, Phoenix, AZ *
22 The Wiltern, Los Angeles, CA **
23 The Fillmore, San Francisco, CA **
25 Showbox SoDo, Seattle, WA *
26 Roseland Theatre, Portland, OR **
28 The Fillmore Auditorium, Denver, CO *
29 Sokol Auditorium, Omaha, NE **
30 Midland Theatre, Kansas City, MO *
MAY
1 The Pageant, St. Louis, MO **
3 Danforth Music Hall, Toronto, ON CANADA **
5 Paramount Theatre, Huntington, NY **
6 Upstate Concert Hall, Clifton Park, NY *
7 House of Blues, Boston, MA*
* KsE closes
** Anthrax closes