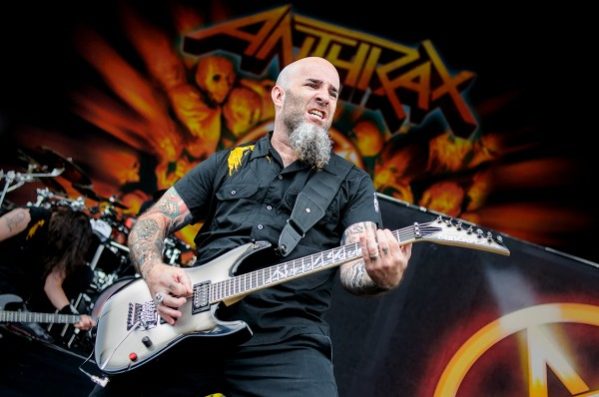 In an interview with SiriusXM Volume's "Debatable," ANTHRAX's Scott Ian told why he thinks that late AC/DC guitarist Malcolm Young is the best rhythm guitarist of all time.
Ian said: "Ask any guitar player — rhythm or lead guitar player — and they'll tell you Malcolm's the best; he's the best. Literally, his riffs and his approach to playing, his dynamics… His right hand was so percussive as a rhythm player, so the dynamics are just unbelievable.
"And it just cuts through in a way that nobody else, before, during or after, playing hard rock will ever, ever come close to, because no one else is gonna write those riffs again; they've already been written. You can't write those riffs again; it's impossible. Because then you'll just sound like a bad AC/DC ripoff."
Ian previously told Gretsch: "There is just an instant rush anytime I hear AC/DC. It's like mainlined into my brain. As soon as I hear him playing chords, I just get excited, still, after all these years. If I put on 'Let There Be Rock', I feel the same now as I did 40 years ago. It moves me in exactly the same way."
MEGADETH mainman Dave Mustaine also praised Malcolm in an interview with Classic Rock Magazine.
Mustaine said: "Malcolm was one of the greatest rhythm guitar players ever – and if you don't have good rhythm under the solo, it sounds like crap. Y'know, The Beatles were famous for back beats and for turning the beat around, and that's one of the things that AC/DC and Malcolm did a lot. Overdose the way that the riff goes against the beat. Y'know, that anticipated riff where it almost seems like it would be ahead of the drum beat. I just loved it.
"Some people say Malcolm's rhythm parts are simple. They're missing the point.
"Think of somebody who has every single shade and tint and hue under the sun, versus the guy that's got one piece of paper and one pencil – and they both accomplish the same thing. My hat would be tipped to the person who can do the most with the least.
Young died after being diagnosed with dementia on 18 November 2017 at the age of 64, at Lulworth House in Elizabeth Bay. His funeral was held at St Mary's Cathedral, Sydney on 28 November. Young's elder brother George Young died a few weeks before him, on 22 October 2017.