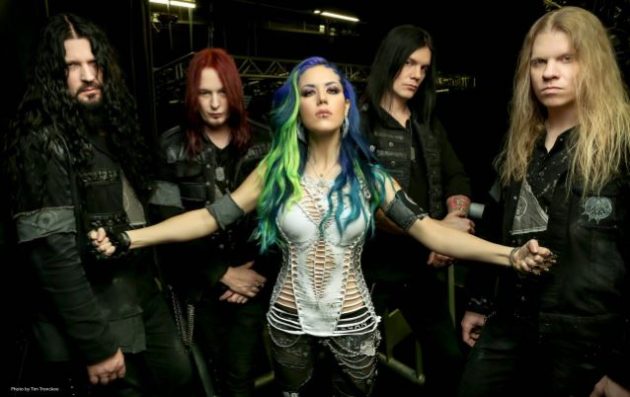 Extreme metal giants ARCH ENEMY are ready to bring their fierce brand of metal to audiences worldwide as they announce details on their upcoming album, "Will To Power" which will be out on September 8, 2017 via Century Media Records. The band revealed the new album's captivating cover artwork, designed by Alex Reisfar. You can check out the artwork below.
Guitarist Michael Amott commented on the artwork:
"It was a pleasure working with Alex Reisfar on the 'Will to Power' cover artwork, he immediately grasped the concept and atmosphere we were looking for with this album. We talked about the double edged sword that is human ambition, how it can be outstandingly creative and beautiful but can also be turned into something dark and powerful. Alex proceeded to masterfully paint a strong image that evokes a lot of feelings. The human skull as a central focal point, the flesh sort of falling off into the circular pattern. The snake ouroboros weaving in and out of the mouths and throats of the severed heads of a wolf, a goat and a vampire bat… All representing self determination and a predatory, almost parasitic will to power"
Shortly after the album's release, the "Will To Power" touring cycle will kick off with shows in Eastern Europe, Austria, Finland and Russia, to be followed by an extensive North America tour in October / November. A full European tour can be expected in early 2018. Following in the steps of their most acclaimed album to date, "War Eternal", which saw the band reach their highest charts in the US and Germany to date, "Will To Power" will continue to smash records worldwide.
"Will To Power" will be a bold sonic statement that ARCH ENEMY in this day and age is virtually unstoppable.
ARCH ENEMY @ Summer Festivals 2017:
06.07.2017 Rock Harz Festival, Ballenstedt, Germany
08.07.2017 Resurrection Fest, Viveiro, Spain
12.07.2017 Rockmarathon, Dunaújváros, Hungary
15.07.2017 Gefle Metal Festival, Sweden
04.08.2017 Rock Pod Kamenom Festival, Snina, Slovakia
05.08.2017 Ostrave v Plamenech, Ostrave, Czech Republic
07.08.2017 Festival Di Majano, Majano, Itlay
08.08.2017 Conrad Sohm, Dornbirn, Austria
10.08.2017 Leyendas Del Rock, Villena, Spain
11.08.2017 Vagos Metal Fest, Vagos, Portugal
12.08.2017 Into The Grave, Leeuwarden, The Netherlands
13.08.2017 Bloodstock Open Air, Walton-On-Trent, UK
ARCH ENEMY "Will To Power Tour 2017" With Special Guest JINJER:
15.09.2017 Music Hall, Innsbruck, Austria
16.09.2017 Posthof, Linz, Austria
17.09.2017 Cvetlicarna, Ljubljana, Slovenia
18.09.2017 Dom Omladine, Belgrade, Serbia
20.09.2017 Quantic Club Open Air Stage, Bucharest, Rumania
21.09.2017 Universiada Hall, Sofia, Bulgaria
22.09.2017 Piraeus 117 Academy, Athens, Greece
23.09.2017 Principal Club Theater Thessaloniki, Greece
25.09.2017 Majestic Music Club, Bratislava, Slovakia
26.09.2017 Progresja, Warsaw, Poland
27.09.2017 Loftas, Vilnius, Lithuania
29.09.2017 Melna Piektdiena, Riga, Latvia
30.09.2017 Rock Café, Tallinn, Estonia
01.10.2017 The Circus, Helsinki, Finland
03.10.2017 Re:Public, Minsk, Belarus *
04.10.2017 Aurora, St. Petersburg, Russia *
06.10.2017 Otdyh, Novosibirsk, Russia *
08.10.2017 Tele Club, Yekaterinburg, Russia *
10.10.2017 Yotaspace, Moscow, Russia *
11.10.2017 Zvezda, Samara, Russia*
*without Jinjer