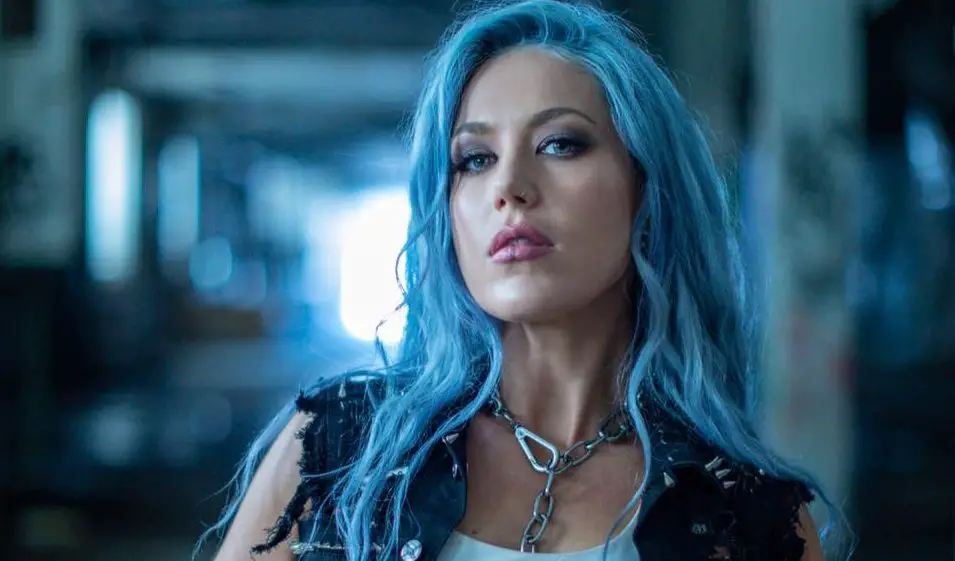 During a recent interview with Mike McMahan of San Antonio Current, ARCH ENEMY frontwoman Alissa White-Gluz spoke about whether there will be another wave of metal bands who are able to ascend to an arena-level status to take the place of bands such as METALLICA and IRON MAIDEN. She said:
Alissa said: "I was just talking about that yesterday, because I was with Nergal [BEHEMOTH frontman] and Michael [Amott, ARCH ENEMY guitarist] at the [Southern California stop of] 'The Bay Strikes Back' tour, which is TESTAMENT, EXODUS and DEATH ANGEL. We were talking about it, and there's a little bit of concern, actually, for what is going to step in as fantastic music. Even if you go a little bit beyond metal, AEROSMITH,
"let's say. Once these bands have to stop for whatever reason, ARCH ENEMY is right there waiting to step in. [Laughs] But there is a little bit of concern on my end. Not to say that modern music isn't fantastic, because it is. It's more that the consumption of music is less focused on the quality of the songwriting and the musicianship and the lyrics, and it's a little bit more focused on the virality of the song and made for a very short attention span. And that's not the fault of musicians. That's just the way world is. So, I'm a little concerned about maybe not having really excellent music in — let's say — 50 years."
"I'm a little worried that the era of bands might actually come to a close, because even the era of touring bands is not very old," she continued. "If you read the Keith Richards biography, he talks about THE ROLLING STONES being one of the first touring bands, and I would hate to see that go away. I hope that there will be a renewed enthusiasm for live metal music. When I was watching the audience in that sold-out House Of Blues Anaheim show with 'The Bay Strikes Back', I was seeing everyone in the audience just loving it and having this spiritual moment in the crowd while EXODUS was playing.
She added: "I don't want to go to a dance club; I don't want to go to a bar; I want to go to a show. There's a good chunk of really established metal bands that have been going for 20 or 25 years, and we've built up a really great performance and a really great set. I understand if SLAYER can't do it anymore, but there's definitely some concern that we're going to have a moment where the masters are no longer there."
ARCH ENEMY's new album, Deceivers, will be released on July 29 via Century Media Records. A collection of 11 tracks that are ruthlessly catchy and mercilessly violent, Deceivers stands toe to toe with the highlights of the band's storied catalog. Deceivers can be pre-ordered via Amazon here.
As an Amazon Associate, we may earn commissions from qualifying purchases.