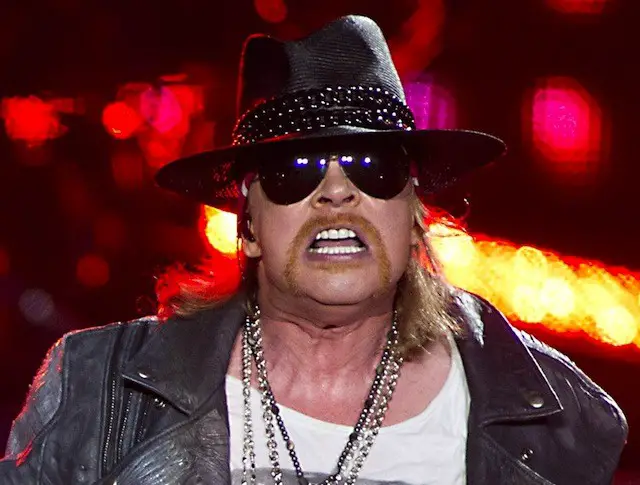 GUNS N' ROSES frontman Axl Rose has condemned the police officer who arrested a 12-year-old boy named Corey Jackson at a mall in Cumberland, GA, for allegedly selling CDs with his music.
As NBC reports, the incident took place at the Cumberland Mall on October 6. The confrontation was filmed by Corey's aunt, who also got in trouble with the law for "assaulting" the officer.
The boy was charged with felony obstruction, misdemeanor obstruction and criminal trespassing from the confrontation. He was released to the custody of his father.
The aunt was charged with felony obstruction, giving false ID, criminal trespassing and misdemeanor obstruction.
Axl shared the footage of the incident and added via Twitter:
"Come do that to me, you f**kin' pussy. I'll b waitin'."
Toya Brown, a friend of Corey's family and a recording studio manager in Atlanta where Jackson made some recordings in the past, said the family was hiring a lawyer, adding:
"They don't know why he was targeted, he's a very good kid. He doesn't get into any trouble. He's very well-spoken and polite. Ask anyone who has met him and they would tell you that.

"I mean he's 12, he's not harming anyone. He shouldn't have been treated like that."
The report further reads:
"Corey J, who came to fame with an appearance last year on Ellen DeGeneres' TV show, had been warned twice in the past month not to sell CDs at the mall.

"Brown said the 12-year-old wasn't selling CDs at the mall that day he was grabbed by police but was there just to meet up with some other artists.

"The uniformed officer was working at the shopping center on a private contract between the county and mall operators, police said. He was called over to Corey at the request of a mall security guard, [Cobb County police spokeswoman Sarah] O'Hara said."