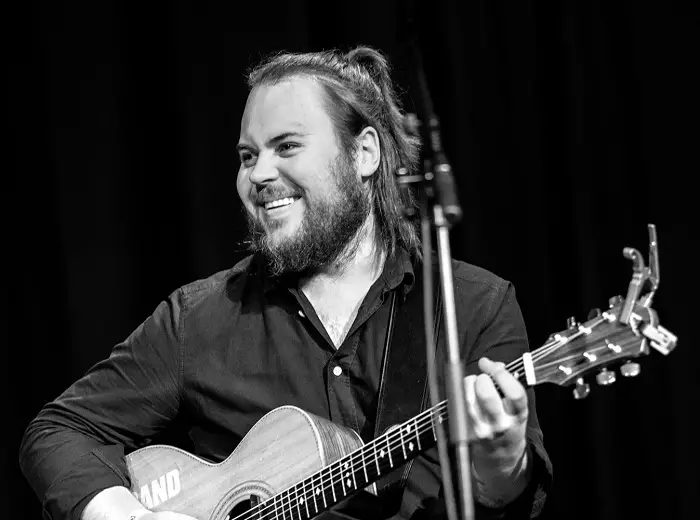 Rikard Sjöblom, known for fronting one of the most prolific progressive rock bands that emerged in 2000s, Beardfish, is set to release his second studio album titled The Unbendable Sleep on February 10th. The first single off the album, "Realm of You and Me," and can be heard below.
Sjöblom, who is also a part of the UK prog rock band Big Big Train, commented: "It was one of the last songs that was written for the album, but basically I was sitting in a hotel room, just strumming the guitar and started playing the opening riff over and over and singing a melody ('I've been mending the holes in my heart'). I think I wrote the whole thing in like fifteen minutes. It quickly became a favorite for me and I recorded it the week after I wrote it. It's about growing apart and finding your way back to someone; your partner, yourself,… your guitar? I don't know, I can't be sure yet what it means to me personally but I know I feel very strongly about it!"
Comparing "Realm of You and Me" with the rest of material on The Unbendable Sleep,"Rikard says: "It's not as prog-oriented as some of the other songs on the album but it still has a prog quality I would say. I hope you will enjoy it!"
Sjöblom will promote The Unbendable Sleep live on a mini-UK tour this spring, supporting Cuban progressive rock band Anima Mundi. See the poster below for dates.
The Unbendable Sleep is out on February 10th via Gungfly Productions; pre-order it here. The vinyl version of the album is available for pre-order from Plane Groovy.
The Unbendable Sleep track listing:
01. Love And War Part One: I Am Who You Are
02. Realm of You and Me
03. Rhyme and Reason
04. Will We Cry?
05. Under Northern Skies (Villemo's Song)
06. Building a Tent for Astor
07. Anna-Lee
08. Love And War Part Two: Lucky Star