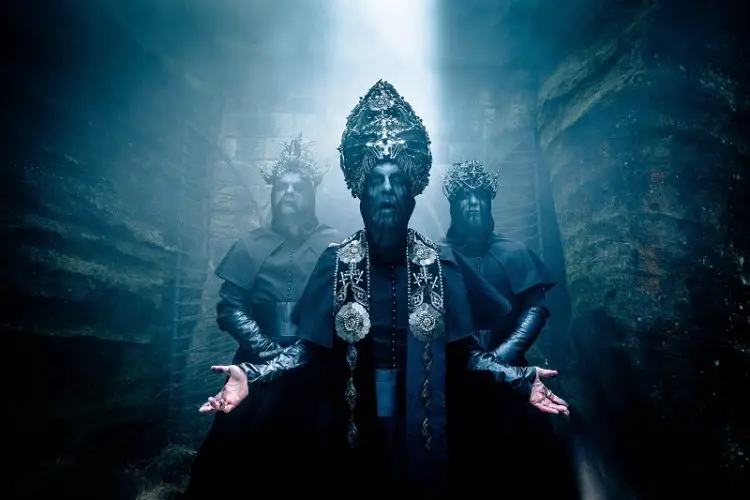 The official music video for BEHEMOTH's "Wolves ov Siberia" from the album 'I Loved You At Your Darkest' – out October 05 via Metal Blade Records (North America) / Nuclear Blast (Europe) can be seen below.
While it certainly seems an unlikely title for a black metal band, its origin might surprise fans even more than the words themselves. "It's a verse from the Bible," frontman Nergal reveals. "It's actually a quote from Jesus Christ himself. For BEHEMOTH to use it as the basis of our record, it's sacrilege to the extreme."
Of course, BEHEMOTH is no stranger to blasphemy. Over the course of the last 27 years, they've pushed the boundaries of black metal and heresy alike. While anti-Christian sentiment might seem like stale bread where most metal bands are concerned, for BEHEMOTH such ideas represent a very real threat to their physical freedom. Time and again, the government of their native Poland has charged them with various "crimes" such as tearing up a bible onstage in 2007 and using the Polish coat of arms on a BEHEMOTH t-shirt in 2017. "Obviously, stuff like that can piss you off. But I think it's good to be pissed off," Nergal says with a laugh. "Anger can be a massive driving force, especially when you make extreme music. But politically and socially, Poland is a very disparate country. You can never feel totally safe here. That makes it easier for me to get inspiration. If I lived in Holland or Australia, I don't think I'd be doing what I do now. You can do or be anything you want there. I'm a huge fan of that kind of freedom, but I don't really have it here. Struggling with that on a daily basis makes me who I am, and fuels my passion for this music."
Nergal and his bandmates — Orion (bass) and Inferno (drums) — have channeled that passion into "I Loved You At Your Darkest". A crushing salvo of black metal majesty replete with hellish riffs, thundering drum cannonades and soaring liturgical choirs reminiscent of classic horror cinema, the album is also bejeweled with nimble-fingered rock guitar solos on songs like "God = Dog", "Ecclesia Diabolica Catholica" and "Sabbath Mater".
"I really wanted to redefine ourselves with this record," Nergal explains. "'I Loved You At Your Darkest' is a more dynamic record. It's extreme and radical on one hand, but it's also more rock-oriented than any other BEHEMOTH record."
"I Loved You At Your Darkest" track listing:
01. Solve
02. Wolves Ov Siberia
03. God = Dog
04. Ecclesia Diabolica Catholica
05. Bartzabel
06. If Crucifixion Was Not Enough…
07. Angelvs XIII
08. Sabbath Mater
09. Havohej Pantocrator
10. Rom 5:8
11. We Are The Next 1000 Years
12. Coagvla