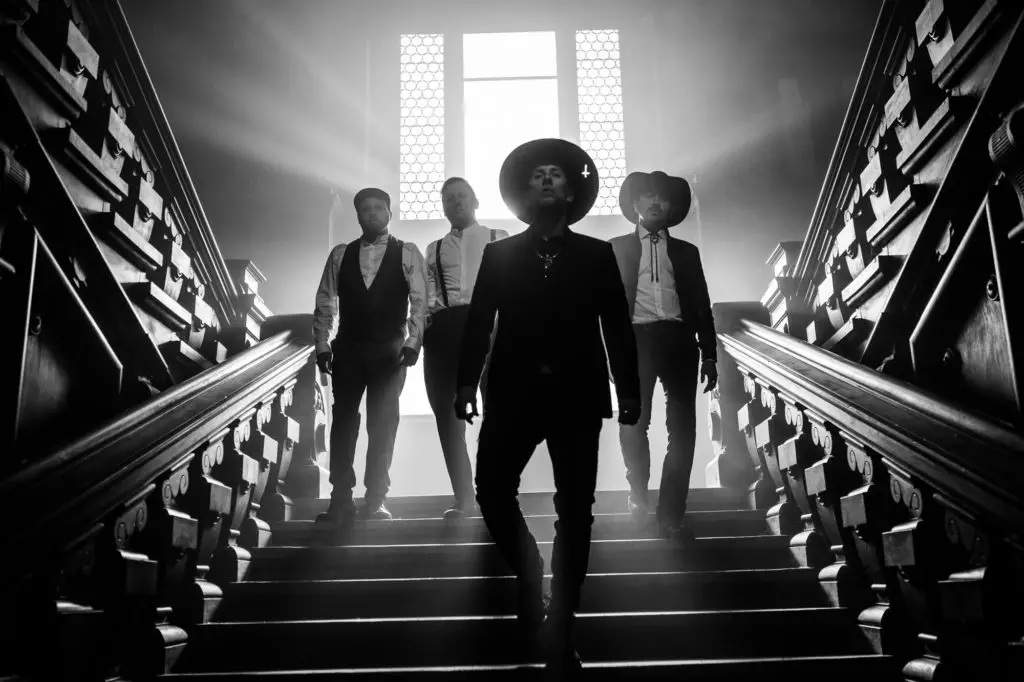 In a new interview with Ultimate-Guitar's David Slavković, BEHEMOTH mainman Adam "Nergal" Darski talked about his country-blues side project ME AND THAT MAN.
When asked how did he come up with the idea to start this project, Nergal responded: "I've always gravitated towards music that is just more stripped-down and more back-to-basics, back to the roots. Rock music based on blues. Not that I'm like a massive fan, but I think it started with DANZIG and stuff like that.
"And then when I saw DANZIG would contribute some songs together with Johnny Cash or Roy Orbison, it kind of intrigued me and I just started exploring other genres of music and some post-goth stuff, some post-punk and punk.
"And at some point, I just realized — to balance myself out, I would need a project that would be less than more," he continued. "So less gain, less theatrics, less screaming, more singing, and so on. So this way, I just realized, 'Okay, maybe it's time for me to do something in that vein.' And I did."
Askedto single out some important blues guitar influences to him, Nergal said: "Yeah, John Christ from DANZIG. He is still, in my opinion, the ultimate DANZIG guitarist. And he was very blues-oriented. I really look out for that guy. I mean, he's not an obvious blues choice. That was probably not the answer that you were expecting. But that felt natural.
"Then Tony Iommi… And when it comes to blues artists that I repeated quite often, it's Buddy Guy. Because he's still very active. He's still touring and he's a guitarist and a vocalist. And I love him."
ME AND THAT MAN's upcoming album, New Man, New Songs, Same Sh*t, Vol.1, will be released tomorrow (March 27) via Napalm Records.
The enthralling album visits a completely new spectrum of dark desert vibes and sees notable heavy music icons such as Corey Taylor (SLIPKNOT), Brent Hinds (MASTODON), Matt Heafy (TRIVIUM), Ihsahn (EMPEROR) and Sivert Høyem (MADRUGADA) join the pact with the devil. New Man, New Songs, Same Sh*t, Vol.1 is a diversified, dynamic masterpiece that presents Nergal in a completely new light, providing a strong contrast to the heavier sounds of BEHEMOTH. Evil has truly never sounded so good.
New Man, New Songs, Same Sh*t, Vol. 1 track listing:
01. Run With The Devil (feat. Jørgen Munkeby of SHINING)
02. Coming Home (feat. Siver Høyem of MADRUGADA)
03. Burning Churches (feat. Mat McNerney of GRAVE PLEASURES)
04. By The River (feat. Ihsahn of EMPEROR)
05. Męstwo
06. Surrender (feat. Anders Landelius of DEAD SOUL)
07. Deep Down South (feat. Nicke Anderson of ENTOMBED / Johanna Sadonis of LUCIFER)
08. Man Of The Cross (feat. Jerome Reuter of ROME)
09. You Will Be Mine (feat. Matt Heafy of TRIVIUM)
10. How Come? (feat. Corey Taylor of SLIPKNOT and STONE SOUR) / Brent Hinds of MASTODON)
11. Confession (feat. Niklas Kvarforth of SHINING)