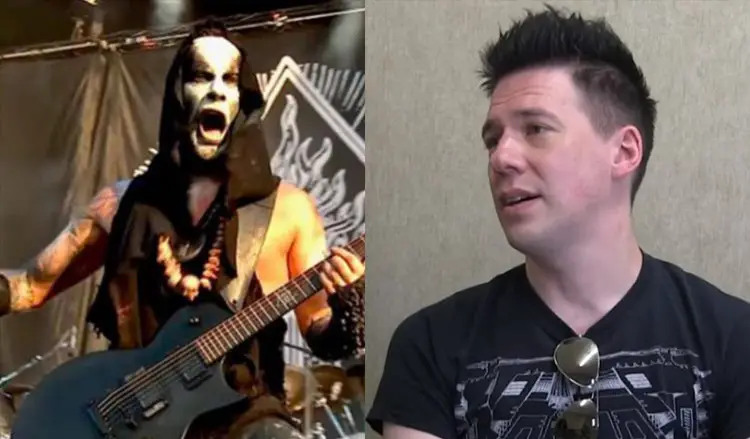 In a new interview with Ultimate-Guitar, BEHEMOTH frontman Adam "Nergal" Darski recalled unmasking GHOST mainman Tobias Forge.
As reported, Nergal shared a FortaRock Festival backstage photo of himself and unmasked Forge, along with the caption: "If you have ghosts… U have everything;)".
Both BEHEMOTH and GHOST were at the festival bill, making Darski's hint quite strong.
When asked if he intentionally do that, and if Forge was upset about it, Nergal now responded: "No. Kristen [Mulderig] – his manager and my good friend – she was, like, 'Oh, sh*t! Don't do that! Please remove it!' So I removed it but, obviously, it was too late.
"I was… Look, to be completely frank with you, I'm very spontaneous when it comes to social media, which is probably one of the reasons why it's so popular and why people did that – there is no manager behind it, there is no hired gun behind it.
"It's Adam 'Nergal' Darski that's just being himself, just being spontaneous," he continued. "I'm just basically showing a part of my world. I'm sharing that with the universe. That's it, you know? I mean, I'm showing as much as I can. But it's honest. And I was probably… I wasn't really thinking twice when doing that.
"Obviously, I didn't put, 'Tobias Forge with me' or whatever; I just put a caption, like, 'If you have Ghost, you have everything.' But maybe that was too much of a hint for people…
"I mean, people have known before, okay? If you just googled it prior to [my Instagram post], his face was out there. The speculations were going on for years, and people would guess who he is.
Nergal added: "Somehow, I put the dot over 'i,' which I'm sorry for. I texted Tobias shortly after, but he was, like, 'Ah, man… It's fine, it's cool. I mean, it's gonna happen sooner or later, so f*ck it.'"