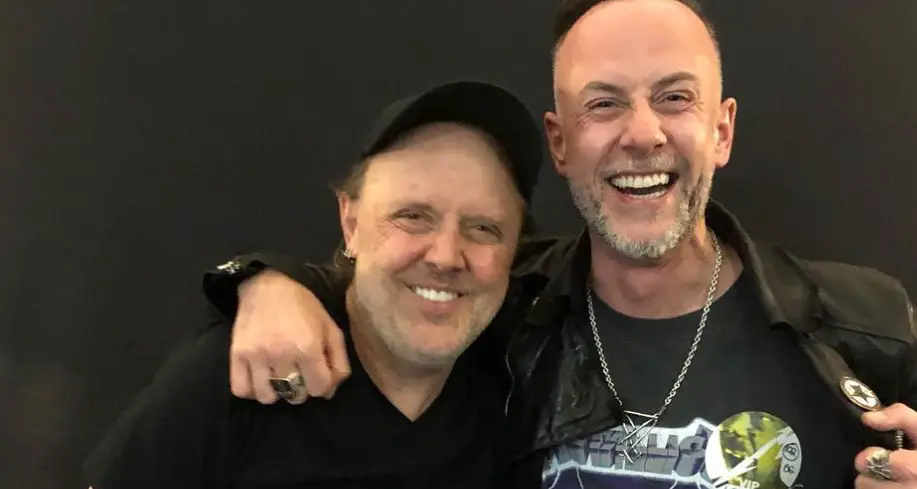 During a recent interview with Sweden's Rock Sverige, BEHEMOTH mainman Adam "Nergal" Darski discussed METALLICA's impact on his throughout the years.
"F*cking hell, man. I mean, I remember when I was a kid, I wasn't the biggest METALLICA fan. I was more of a [IRON] MAIDEN fan and SODOM or something else," he said. "I always followed METALLICA and I listened to them, but surprisingly, which is quite unexpected, I became the biggest METALLICA fan for the last 15 years. The longer I'm around and the longer I see METALLICA going and how well they're doing, I'm more and more filled with f*cking adoration for those guys. I'm lucky enough to be friends with Lars [Ulrich, METALLICA drummer] and he's an amazing human being — super gentle and an amazing guy. And every time I see METALLICA… most of the times I'm in the pit and that's amazing.
"I think the last record [Hardwired… To Self-Destruct] is really a solid one," Nergal continued. "'Spit Out The Bone' must be one of their best songs ever. I'm one of those guys. Kill 'Em All is probably one of my favorites and Master Of Puppets and the last one. It's a great record.
"I always say that METALLICA is still around and they're in really good shape. They're not the youngest dudes around and I believe that they'll go on for at least another decade, but I always tell everyone to f*cking go and watch METALLICA. Go and see METALLICA because all those classic bands like METALLICA, MAIDEN, GUNS N' ROSES… all those bands are going to be around for only a little bit longer. It's going to be the longest farewell. Make sure to catch their set and support those bands. Once they're gone, they're gone. Appreciate them while their still around and touring the world. I always go and see METALLICA, MAIDEN, GUNS N' ROSES…"
BEHEMOTH will release twelfth studio album, Opvs Contra Natvram, via Nuclear Blast on September 16.