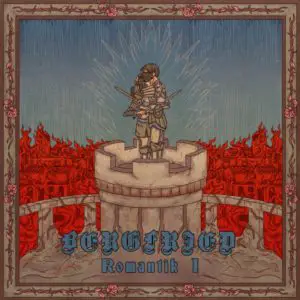 Imagine, my dear fan, the meeting of the voice of No Doubt's Gwen Stefani with Deep Purple or even Uriah Heep. In fact, the combination here is kind of uncanny when the fan knows who Gwen Stefani is. Bergfried's music is full of heavy guitars with prominent keyboards and a variety of moods in only four tracks of this EP called "Romantik I." The label Heavy Rock might explain better the music performed here. Or maybe, just maybe, a different kind of Symphonic Metal. Rhapsody of Fire with female vocals would also address well the music in here. Interestingly, my dear fan who knows the aforementioned singer as I do will strange a little as her voice fits perfectly to the medieval inspired heavy music. Another band that may come to my dear fan's mind is Blackmore's Night, the band Ritchie Blackmore have with his wife Candice Night. Of course, Bergfried is much heavier but the medieval traits do remind them a little especially in the heavy ballad "War-Torn Lovers." The moods the band's keyboards create are fantastic.
The band is the product of Multi-instrumentalist Erech Leleth with the beautiful and versatile voice of Anna de Savoy. Erech Leleth plays all instruments and is the mastermind of Bergfried. This album "Romantik I" has lots of classical music inspiration most notably from the romantic period. Even though, "Oh Lord" is an uptempo country music inspired and stands out from the album. As I said before, this album delivers a very differen combination of sounds. Album opener "Hungry Hearts" has a strong flaming guitar which is overwhelmed by a powerful and prominent keyboard sound that takes the lead with a very catchy riff. In fact, by the way the keyboard sounds it takes the place of the guitars or sometimes it completes the musical ideas. Thats exactly what makes Bergfried's music so unique. And unique is something a little scarce nowadays.
"Romantik I" is an album with lots of charm. The kind of charm that makes a fan love the band. "War-Torn Lovers," for instance, kind of sounds as if it were a part of a soundtrack due to the moods the keyboard creates. Let's wait for "Romantik II" or whatever the name of the full-lenght will be.
Bergfried "Romantik I" was independently released on April 11th.
Track Listing:
Hungry Hearts
The Battle
War-Torn Lovers
Oh Lord
Watch "The Battle" official video here: