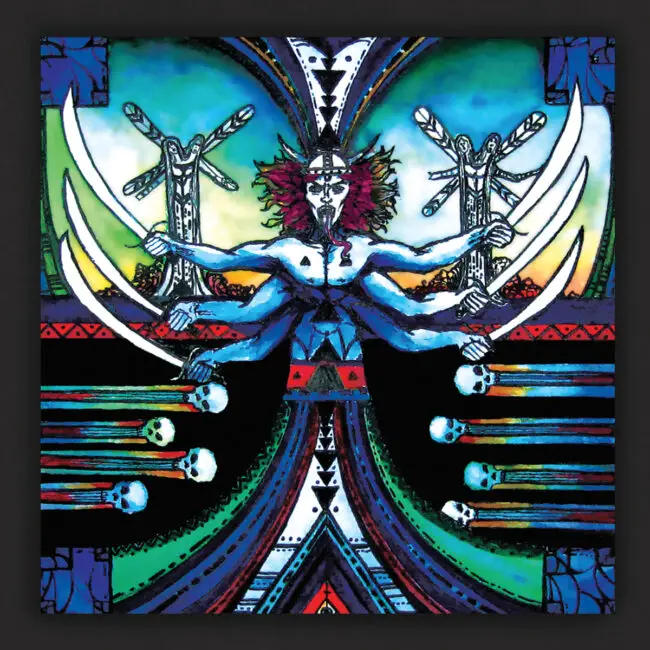 There are bands that are simply essential and seminal to music. I mean, not only for their time, but for the time being as well. Some bands really go beyond everything they're supposed to be. I'm talking about Black Sabbath and their huge, not huge, sorry, I mean gigantic, influence in all things related to Metal music. Black Sabbath not only helped creating and shapping a musical style that didn't exist in their time, but also their characteristic of that time music was so influenceable that a subgenre of Metal music is totally dedicated to it. Yeah, that's Doom Metal in its essence. The dark, gloomy, and shoegazed music is all inspired on the classic Black Sabbath albums.
Alright, all that because here we've got a band that drinks profusely in that rich fountain. Black Pyramid with "II" don't just replicate the sound of the classic Black Sabbath albums, but also go beyod them. By the way, it's pretty important to say that "II" is a re-release from the 2012 original. Fair to say that the band goes on with all the legacy. "II" adds a lot more to it being at the same crude and gloomy with ideas that could have been there before. To my fan have an accurate idea of what I'm saying, I'll make an invitation to go right to the fourth track "Dreams of the Dead" and cherish the "Solitude" mood the song is inspired on. From where I'm standing "Dreams of the Dead" goes on with the main idea of the aforementioned song and adds some more. Of course, not that I think "Solitude" needed anything else, but it's always great to listen to a follow up. Or maybe a homage. "Dreams of the Dead" is followed by the acoustic "Tanelord" that is a great example of how Black Pyramid are able to go beyond their legacy. Short but effective. "Sons of Chaos" is a great example of the legacy the band follows. Impossible not to address to Black Sabbath while listening to it. Does it diminish the value of the song? Of course, not. Rush's debut album was a homage to Led Zeppelin. Does everybody know what Rush mean now, alright?
Some will say "II" is a stone album. Well, maybe. However, I guess that from what I've listened here it's safer to say it's Doom Metal. I just guess. If my fan doesn't believe me – and you have all the right to it – go to "Empty Handed Insurrection" and tell me what the song tells you. Doom, right? Stoner, from where I'm standing is completely different. The band gets all the 1970s influences and make their own. Including Black Sabbath, but not only.
Black Pyramid "II" will be released on September 09th via Labyrinth of Thoughts.
Track Listing:
Endless Agony
Mercy's Bane
Night Queen
Dreams of the Dead
Tanelorn
Sons of Chaos
Empty Handed Insurrection
The Hidden Kingdom
Into the Dawn
Watch "Into the Dawn" official music video here: