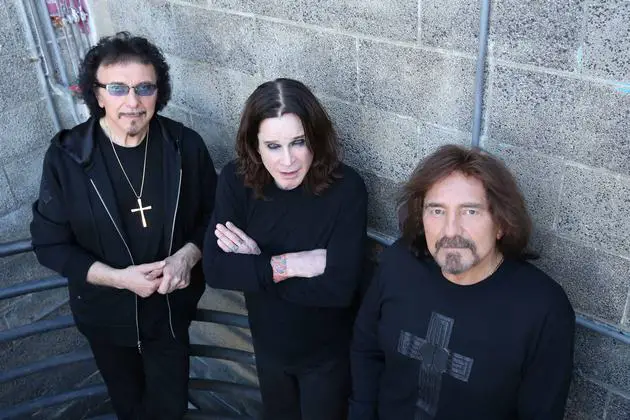 BLACK SABBATH is selling special limited edition CD "The End" exclusively at shows on the legendary band's massive worldwide final tour.
Featuring original artwork by Shepard Fairey/Obey Giant, the CD is comprised of eight previously unreleased tracks: four songs are outtakes from BLACK SABBATH's worldwide #1, Grammy Award-winning album 13 and four live songs from the band's critically acclaimed 13 World Tour.  The CD features Ozzy Osbourne (Vocals),Tony Iommi (Guitar) and Geezer Butler (Bass), along with Brad Wilk (Drums) on tracks 1-4, Tommy Clufetos(Drums) on tracks 5-8, and Adam Wakeman (Keyboard) on tracks 5-8.  Tracks 1-4 were recorded at Shangri La Studios in Malibu, CA and produced by Rick Rubin, mixed by Andrew Scheps at Punkerpad West and recorded by Greg Fidelman.  Tracks 5-8 were recorded and engineered by Greg Price and mastered by Robert Vosgien at Capitol Studios Mastering.
 "The End" track listing:
01. Season Of The Dead
02. Cry All Night
03. Take Me Home
04. Isolated Man
05. God Is Dead? (Live Sydney, Australia 4/27/13)
06. Under The Sun (Live Auckland, New Zealand 4/20/13)
07. End Of The Beginning (Live Hamilton, ON Canada 4/11/14)
08. Age Of Reason (Live Hamilton, ON Canada 4/11/14)
Now, all four new songs have surfaced on YouTube and you can hear them below.