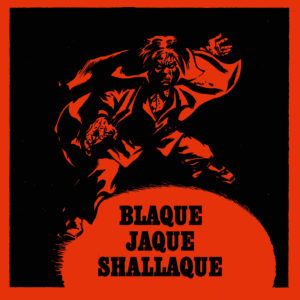 The way I pick an album to review has its peculiarities –  some may call them eccentricities, but whatever. In fact, when one has so many albums to review as I do, the way you pick them doesn't matter at all except if you are writing about it. Sometimes I have to listen to a great deal of albums to choose one to review. I mean, the album has to match my mood. This one I picked because of the name. Yeah, right. The name. Let's all agree that Blaque Jaque Shalaque is a hell of name. The press release says it was inspired in a cartoon character. Ah, now I see… Then you start listening to the album and feel that the sound is too real to be a new band. So, you go to the press release again and see that the band is the real deal. Dave Tattum, from Angel Witch's "Screamin' 'N' Bleedin'" and "Frontal Assault" albums, is the vocalist of this album which was recorded in 1982 at the Bronze Studios.
"Blood on My Hands" delivers many features that would be popular around with NWOBHM bands. If the fan pays close attention Angel Witch is here already and not only with the voice. I mean the moods and instrumentals. From where I'm standing, title track "Blood on My Hands" is the one which reminds Angel Witch a lot due to the plot twists the song goes. This feature of starting real slow to get faster and all hell breaks loose is the real deal. The fan can see here where it all started. I know say that a lot but I loved the guitar tones especially in "You Keep Me Hangin' on" a song that goes a bit far from the band's intent and that's why is so cool. There's some kind of 1970's Hard Rock in it. From then on, the album delivers live tracks and some of them were recorded for a radio program – well, that's what I got. The sound of them is pretty raw, just the way may metallers love me included. The rawer, the better some say and I kind of agree. Within some limits, of course.
"Blood on My Hands" is an anthology of the band with some demos recorded between 1981/1982. I guess the album will be perfect not only for the nostalgic but also to the also that love great Metal music.
"Blood on My Hands" was released on December 17th via High Roller Records.
Track Listing:
Blaque Jaque Shallaque (Demo)
Revenge Is Sweet (Demo)
Blood on My Hands (Demo)
You Keep Me Hangin' On (Demo)
Break the Spell (Live radio recording)
Are You Ready (Live radio recording)
Spring Rain (Demo)
Give Me Your Love (Rehearsal)
Playing with Fire (Rehearsal)
The Killer (Rehearsal)
I'd Find You (BILL THE MURDERER single)
Spring Rain (BILL THE MURDERER single)
Watch "I'd Find You (BILL THE MURDERER single)" video here: