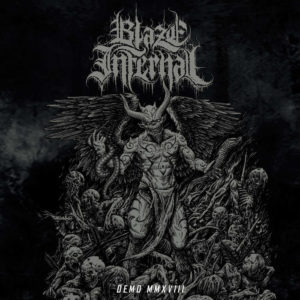 Does anyone know the term 'machine gun drumming'? It explains better the drumming in Blaze Infernal. The kind it's been years I don't hear. "Demo MMXVIII" is an EP with only three songs in it. Well, three songs is a matter of speaking. Track "The Beginning" is a dude breathing… But all hells break loose in track two "Gods Amongst Men" which by the machine drumming we take that the gods killed all humankind and sent us "To The Void," which is track three. You know I make no puns with bands' lyrics and songs, but I couldn't resist.
Blaze Infernal are a straight-ahead-right-in-the-face death metal band. That's what we can tell by only three tracks, I mean, actually, two. But what we can hear shows a band that knows exactly what they're here for. And that is to blow the world with their blows-it-all-up music. "Gods Amongst Men" has a certain 1980s feeling of bands like Possessed which enjoyed going right to the point of aggression. Blaze Infernal are like a nuclear missile where nothing is left behind. Guitar phrases follow the same intent being sharp and precise. To add a personal touch, guitar introduces some dissonances in the end to burst into a solo. The effect woks nice. But the drumming calls the eye. Very resourceful drummer.
If the intent were to establish hell on earth, Blaze Infernal got it. The impression we all get is that the world is over after listening to the album. As a matter of fact, that's always the intent, isn't? we're Metal, not pop. Hell feels like home. In "To The Void" guitar phrasing breaks a little all the fuzz. That's the contrast I keep saying.
Blaze Infernal "Demo MMXVIII" was self-released on September 04th via Eastbreath Records.
Track Listing:
The Beginning
Gods Amongst Men
Into the Void
Watch "Gods Amongst Men" official lyric video here: