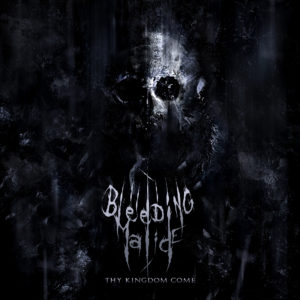 Among all subgenres intervened into Death Metal there is one that is growing stronger and stronger and the number of bands that dedicate their lives to it grows in an unstoppable way. Just today I noticed the great deal of Technical Death Metal bands we've been receiving here with this Bleeding Malice "Thy Kingdom Come," and album that at first may deceive the fan about being a Technical Death Metal band or not as opening track "The Last Prayer" doesn't sound too Technical. But things change soon as opening track is too short to notice its nuances. However the bass and the drums sound a bit in the Technical direction. Interesting how the track stops with no warn or something. It just ends. Things chance a lot with following track "I Claim Death" which has more features of the style with some guitar squeaks and some out of the standard tempi and cadences. The bass is the instrument that calls the eye of the fan with some creative and surprising lines. From then on the album acquires more and more features that slowly make it more technical.
It's interesting Bleeding Malice go getting more and more melodic track after track adding more elements of Technical Death Metal. It's something the fan will notice with "No Remorse, No Redemption" whose tittle fit to what they'are playing – I guess so. "Coming Home" slows even more and acquires the face of a desperate ballad. It's much more a song of despair and paind and grief than a ballad however the instrumentals. The fan may feel it on the bones. The desparation rate rises a lot and the guitar comes with a melodic and even more hopeless and anguished solo. The same vibe has tittle track "Thy Kingdom Come" with its intro and the backing with some out-of-this- world entities that gives it an ethereal mood. Vocals change a lot through the album. Pay attention to the nuances they get in "A Wolf Among Sheep" where my impression is that vocals trry to assume a wolf personality. Sometimes it sounds as if the band is going into a Melodic Death Band direction as in "Bleed" and its melodic guitars. Some track, though, go in another direction as my fan will notice by "Nothing Left Worth Living For's" prone for Melodic Black Metal.
"Thy Kingdom Come" will please death metallers, but not only, all Extreme Metal fans will enjoy the trip Bleeding Malice do here.
Bleeding Malice "Thy Kingdom Come" was released on August 06th.
Track Listing:
The Last Prayer
I Claim Death
No Remorse, No Redemption
Coming Home
Thy Kingdom Come
A Wolf Among Sheep
Bleed
Stillborne Hope
Nothing Left Worth Living For
Watch "Thy Kingdom Come" official lyric video here: