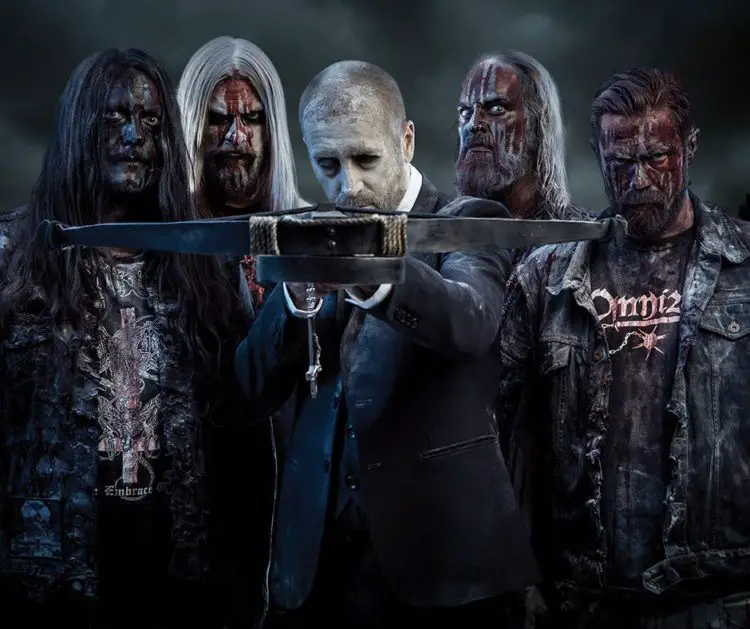 "Bloodicide" is the first track to be taken from BLOODBATH's new album The Arrow of Satan is Drawn, to be released 26th October. Check out the lyric video for "Bloodicide" below.
Like all gore-drenched sequels, demonic death metal supergroup, BLOODBATH's fifth slice of morbid savagery comes even darker, nastier and sicker than before. It's been four years since "Grand Morbid Funeral", and Stockholm's shadiest death cult – with members drawn from metal luminaries Paradise Lost, Katatonia, Opeth and Craft – return with a new slab of old-school, HM-2 driven blackness: "The Arrow Of Satan Is Drawn".
There's an extra nasty layer on "The Arrow Of Satan Is Drawn". This time, among the usual chainsaw riffs and blasts, the darkness of Blakkheim's words is also reflected in the addition of new guitarist Joakim Karlsson of Swedish black metal plague Craft. It's a step forward that's only given the band's already fearsome fangs extra rabid bite.
He's not the only extra face getting covered in gore. Track 2 "Bloodicide" – quite literally meaning 'The Killing Of Blood' – features a full house of British death metal guest stars, with Carcass' Jeff Walker, Bolt Thrower/Memoriam singer Karl Willetts and Cancer's John Walker all lending their larynxes to the madness.