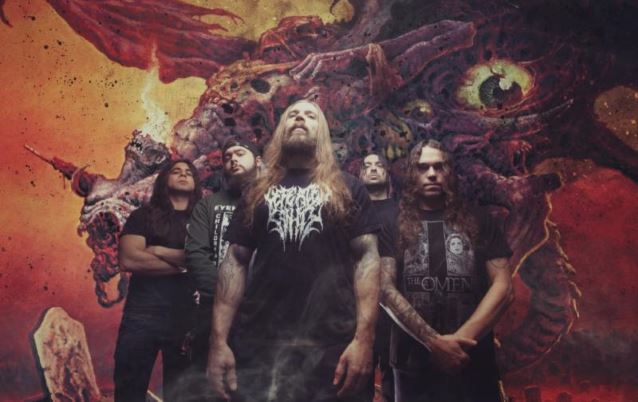 It's official! BROKEN HOPE's new album title, "Mutilated & Assimilated" has been revealed in the October 2016 issue of Decibel Magazine which will be hitting stands on September 1st!
"Mutilated & Assimilated" is the anticipated follow up to BROKEN HOPE's critically acclaimed release, "Omen Of Disease". The new album possesses an extra-special touch as ALL of Jeremy Wagner's and Damian Leski's rhythm guitar tracks feature the boys using ONLY the original JEFF HANNEMAN guitars Wagner acquired from Hanneman's estate last year.
"These famous axes have already inspired and channeled many of the riffs I wrote for the next full-length." explains Jeremy.
Scores of extreme metal bands have been influenced by Slayer over the years, but Jeremy Wagner, guitarist for death metal legends BROKEN HOPE, has taken his love and reverence for the band—and, in particular, guitarist Jeff Hanneman—to new heights.
The guitarist and songwriter is currently composing music for a new BROKEN HOPE record, their second since reuniting a few years back, and he's doing it using only guitars that were previously owned and played by Hanneman himself.
Following Hanneman's death in 2013 from liver failure, his widow, Kathryn, put several of his guitars up for auction, with proceeds benefitting one of Hanneman's favorite charities, the Wounded Warriors Project. After hearing of the auction, Wagner got in touch with Kathryn and the two hit it off. "She told me, 'Jeff would have wanted these guitars to be used, not just sit in a vault,' " he says.
Two of the instruments Wagner acquired are more recent models: a 1998 ESP Custom Shop model Hanneman used during the recording of Diabolus in Musica and in the video for the God Hates Us All track "Bloodline" and a "Raiders" logo ESP that, Wagner says, "was probably one of the last custom guitars he got from them."
But the guitar that Wagner has been using the most for composing the new BROKEN HOPE songs is one known as "Killer." "It's another ESP custom model, also done up with Jeff's personally applied stickers," Wagner says. "It was built in 2005 and played in the studio for Christ Illusion. And I just love this thing. I've been riffing out on it, and the riffs are just flowing out of me."
BROKEN HOPE record will feature him playing "100 percent Hanneman guitars," he says. "And not to sound corny, but I feel a real responsibility to Jeff and to Kathryn to use these guitars in a way that honors him. You know that phrase WWJD—What Would Jesus Do? I think about that. Only for me it's, What Would Jeff Do?"
Stay tuned for even more album details to come on what promises to be BROKEN HOPE's sickest, most pummeling release to-date!