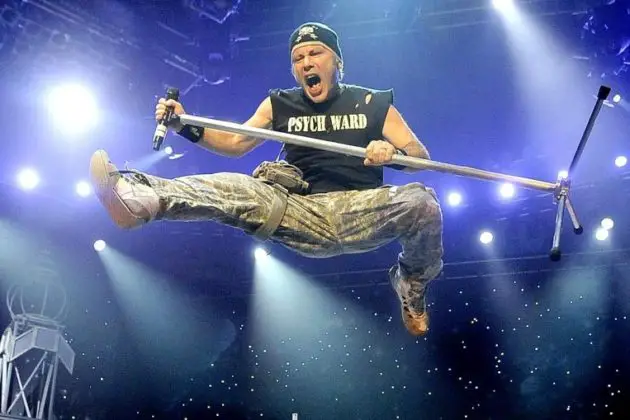 In a new interview with Metal Hammer, IRON MAIDEN frontman Bruce Dickinson looked back on joining the group in 1981 and making his studio debut on 1982's The Number of the Beast.
"I had a vision for The Number of the Beast: my voice glued on to MAIDEN equals something much bigger," Bruce said. "We did it fast — four or five weeks. We'd be in the studio till five or six in the morning. The one mistake we made was putting 'Gangland' on the album instead of 'Total Eclipse.' We picked 'Gangland' because it was the first thing we ever recorded together properly.
"But the rest of the album was fantastic. 'Hallowed Be Thy Name' was a precursor to 'Rime of the Ancient Mariner.' That song, and the whole album, took MAIDEN to a different level," he continued. "We were on tour in Winterthur, Switzerland when we got the news about The Number of the Beast album. We got a telegram on Sunday morning going: 'Your album is number one!'
"And we went, 'Fantastic!' But at the time, we were pushing a 30-seat coach to jump start it, because the driver had let the battery go flat," Bruce added. We were young and we were all chucked into this huge sh*t-storm of success and we dealt with it in different ways. To a certain extent, you make a Faustian deal when you join a successful band. There is a price that gets exacted upon you, and there's very little you can do about that except hope to come out the other end of it right-side up."
He also spoke about his relationship with IRON MAIDEN bassist and leader Steve Harris: "Steve is extremely determined and for a mild-mannered, shy sort of chap offstage, he's got quite a ruthless streak in him. Not in a bad way or an exploitative way, but he'll go, 'This is not working and there's no way 'round it…' He can be very, very stubborn and, of course, so can I! [Laughs]
"How have we maintained our relationships in IRON MAIDEN? We take the pi—s all the time. We've been down a long, long road together," Dickinson continued. "Steve and I have such different personalities, but we have many moments when we're so close, it's really special.
"It's Team IRON MAIDEN. It's a bit like a football team but it's so much more than that. It's more than a job because I wouldn't put my body through what it goes through for a job."