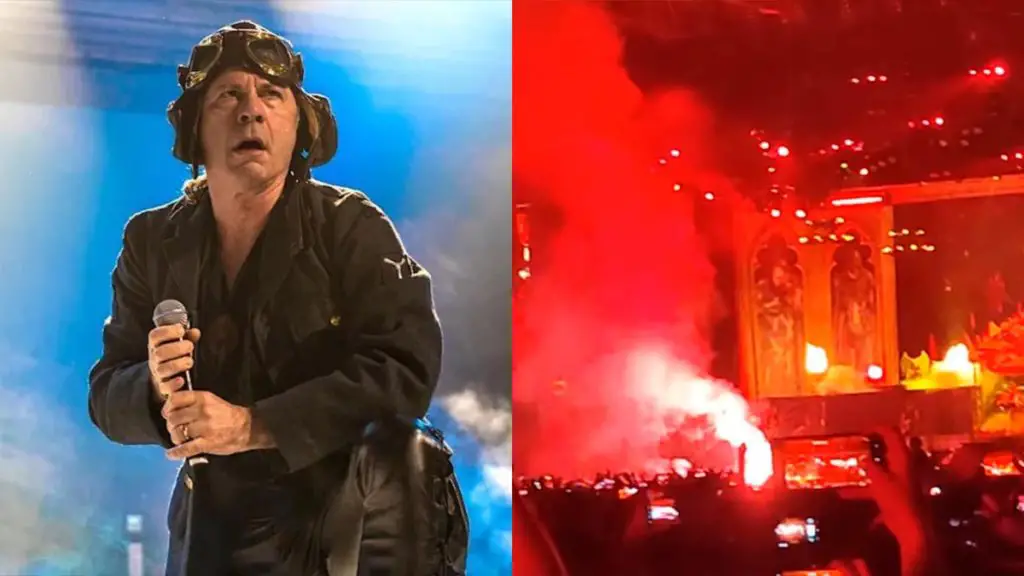 IRON MAIDEN frontman Bruce Dickinson blasted a fan for lighting a flare during the band's concert last night (July 16) in Athens, Greece.
The incident occurred as MAIDEN launched into "The Number Of The Beast", at the Olympic Stadium. After singing the opening line of the track, Bruce noticed the flare lighting up and immediately burst into an angry rant.
Dickinson then said: "The c*nt with the f*cking flare, I've gotta sing up here. "You f*cking c*cksucker. You Greek c*nt. All right. I've gotta f*cking sing. All right. F*ck you."
Dickinson briefly left the stage in hopes that the smoke would clear up as his bandmates continued playing. However, when Dickinson eventually resumed singing the song, he was notably off time and not in sync with the rest of the group.
Video footage can be seen below.
IRON MAIDEN will return to North America in 2022 to bring the "Legacy Of The Beast" world tour to yet more cities this September. The show has already been seen by almost two million people across the globe, being hailed by fans and media alike as the most extravagant and visually spectacular performance of the band's career to date, with a decades-spanning set list of fan favorites.
Tickets and dates for the tour are available at this location.