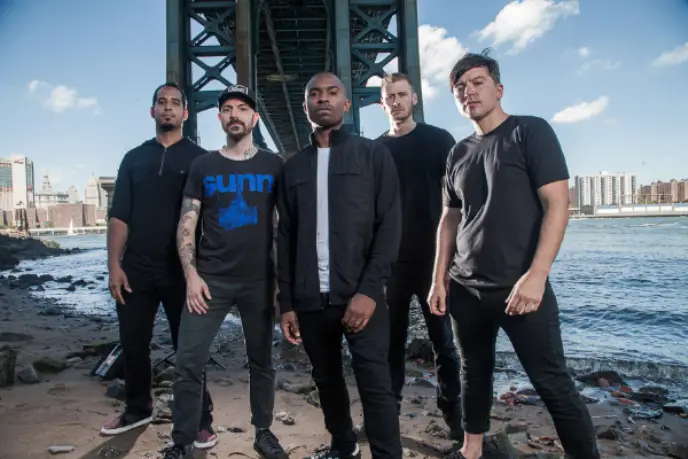 Brooklyn's musical alchemists CANDIRIA – long-known for fusing metal, hardcore, jazz, and hip-hop in a unique, inimitable blend – will release their new album, "While They Were Sleeping", via Metal Blade Records on October 7th. It was recorded at Spaceman Sound in Brooklyn by Tom Tierney and Alex Mead-Fox, and produced by CANDIRIA. It's the band's first album since 2009's "Kiss the Lie".
"While They Were Sleeping" is a concept album conceived by the band's lead vocalist Carley Coma. It tells the tale of a failed musician who rises up against a monarchy in New York City. To pre-order the album in various formats, please visit: metalblade.com/candiria
First single "Mereya" has been released and official track can be heard below.
To celebrate the release of the much-anticipated album, CANDIRIA will embark on the NYC Five-Borough "World Tour," playing shows in intimate venues in each of the city's five boroughs during the week of release. Limited edition posters will be made for all of NYC Five-Borough "World Tour" shows. Each poster will be available only at the corresponding show.
Since their inception, CANDIRIA has been lauded for their ability to mesh decidedly different styles in a seamless way. They were named one of the "10 Most Important Bands in Metal" by Rolling Stone back in 1999, and the band has consistently released music that challenges listeners, thrills critics, and most importantly, attracts a legion of dedicated, diehard fans.
CANDIRIA NYC Five-Borough "World Tour" dates:
Oct. 7 – Manhattan, NY @ Arlene's Grocery (Support: Cavallo)
Oct. 8 – Queens, NY @ Blackthorne 51 (Support: Car Bomb, The Last Stand)
Oct. 9 – Staten Island, NY @ Mother Pugs Saloon (Support: Tombs, Meek Is Murder)
Oct. 11 – Bronx, NY @ Alfie's Place (Support: Billy Club Sandwich, Circuit of Suns)
Oct. 12 – Brooklyn, NY @ Black Bear (Support: Dalek, Husbandry)