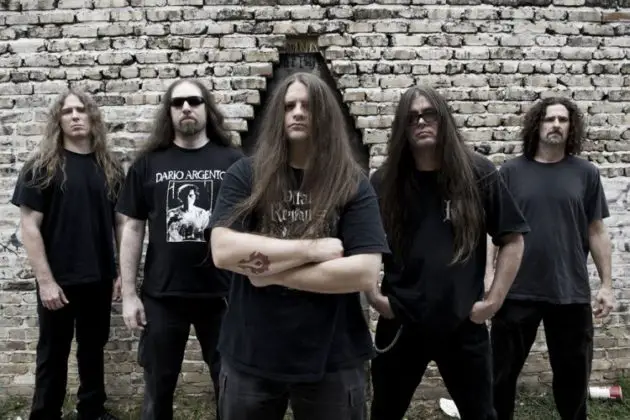 CANNIBAL CORPSE will release their 14th studio album, Red Before Black, on November 3rd via Metal Blade Records.
Many words come to mind when you hear the name CANNIBAL CORPSE, but one truly defines the soon-to-be 30 year death metal veterans: Unstoppable. Returning with their 14th full-length, the monstrous Red Before Black, serves to not only reiterate this but to once more raise the stakes, making it very clear who sets the standard when it comes to always compelling music that is equally brutal and complex. Moreover, the band have pushed themselves again, ensuring that it stands out from their catalog. "We always try to make our music aggressive, but where an album like A Skeletal Domain (2014) was definitely aggressive, it has a targeted refinement that the new album doesn't. Red Before Black is as well executed as anything we've done, but it has a rawness to it that we haven't had in a long time," asserts bassist Alex Webster. "We really worked super hard crafting these songs, practicing them, and getting them where we wanted to be more so than on any of our previous albums," adds drummer Paul Mazurkiewicz. "And as Alex said, musically I think it's the most raw sound we've had – and at the same time I think it's our most focused, tightest and catchiest record."
With 2017 seeing a slew of stunning new releases from death metal's old guard – including Suffocation, Obituary and Dying Fetus – it's been a landmark year both for the genre and its early innovators, and with Red Before Black, CANNIBAL CORPSE stand strong alongside their peers. "We're proud to be part of a scene that has great, experienced bands that stick to their guns," affirms Webster. "Death metal is an established form of underground music that's here to stay, and the leadership bands like these have shown by staying true to the genre is no doubt part of the reason it has such longevity."
That CANNIBAL CORPSE have carved out a career spanning almost three decades is testament to their work ethic, innovative songwriting, passion and devotion to extreme music – though it still remains an astounding feat to the members, as Webster makes humbly clear. "Who could have imagined this? When we started, even Black Sabbath hadn't been around for three decades. There simply was no precedent for a lifelong career in metal, of any kind, let alone a relatively new form like death metal. We've been unbelievably lucky, and we are so grateful to our fans for making it possible." In typically grounded fashion, they continue to forge ahead, seeing no end in sight, Webster stating he likes to think they have yet to write their best record, while Mazurkiewicz outlines their goals: "I would say we just want to keep it going, try to better ourselves – and finally open for SLAYER!"
Red Before Black track listing:
01. Only One Will Die
02. Red Before Black
03. Code Of The Slashers
04. Shedding My Human Skin
05. Remaimed
06. Firestorm Vengeance
07. Heads Shoveled Off
08. Corpus Delicti
09. Scavenger Consuming Death
10. In The Midst Of Ruin
11. Destroyed Without A Trace
12. Hideous Ichor
Cover art for Red Before Black can be seen below.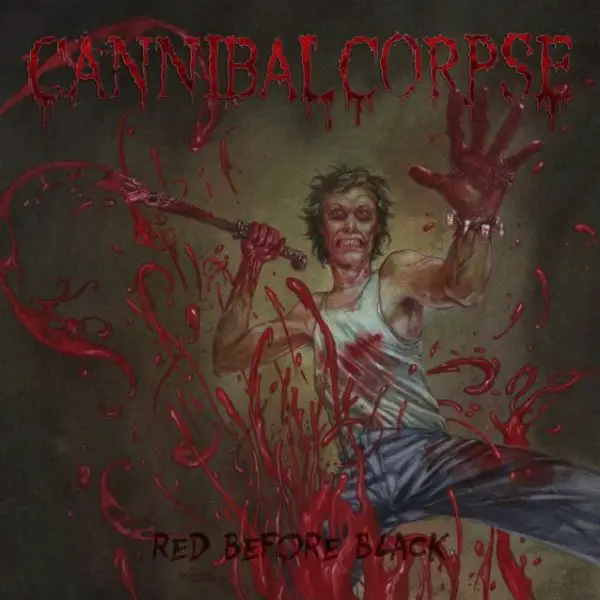 This November, CANNIBAL CORPSE will kick off a US headline tour, with special guests Power Trip and Gatecreeper; see below for all dates.
November
3 – Jacksonville, FL – Mavericks
4 – Pensacola, FL – Vinyl Music Hall
5 – Birmingham, AL – Saturn
6 – Memphis, TN – New Daisy Theater
8 – Dallas, TX – Trees
9 – Houston, TX – White Oak
10 – Austin, TX – Sound on Sound Festival
12 – Phoenix, AZ – Club Red
13 – Santa Ana, CA – The Observatory
14 – San Francisco, CA – Slims
15 – San Francisco, CA – Slims
17 – Seattle, WA – Neumos
18 – Portland, OR – Hawthorne Theater
19 – Boise, ID – Knitting Factory
20 – Salt Lake City, UT – The Complex
22 – Denver, CO – Summit
24 – Chicago, IL – Thalia Hall
25 – Detroit, MI – St. Andrews Hall
26 – Cleveland, OH – Agora Ballroom
28 – Boston, MA – Royale
29 – New York, NY – Stage 48
30 – Philadelphia, PA – TLA
December
1 – Richmond, VA – Broadberry
2 – Wilmington, NC – The Throne Theater
3 – Greensboro, NC – Pete's
5 – Louisville, KY – Mercury Ballroom
6 – Nashville, TN – Exit/In
7 – Atlanta, GA – Masquerade
8 – Tampa, FL – The Orpheum