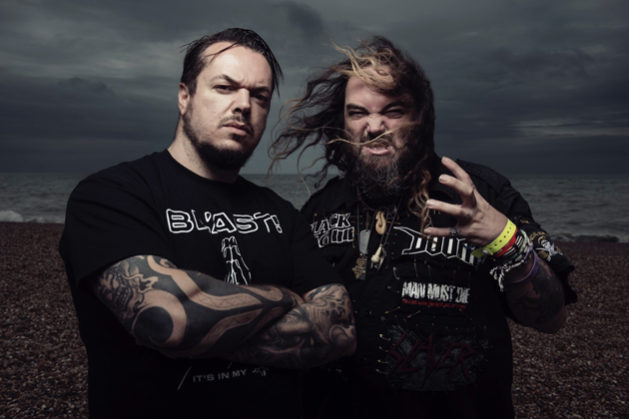 CAVALERA CONSPIRACY have unleashed new music video for, "Spectral War", which is taken from their new album 'Psychosis'.
Says Max Cavalera:"Our new video "Spectral War" was directed by the great tattoo artist, Paul Booth. It focuses on the idea of manipulating war through the ages! I'm very excited for the release of "Psychosis!" Death/Thrash Metal is back to set the world on fire!!!"
Video for "Spectral War" can be seen below.
Psychosis track listing:
1. Insane
2. Terror Tactics
3. Impalement Execution
4. Spectral War
5. Crom
6. Hellfire
7. Judas Pariah
8. Psychosis
9. Excruciating
The brothers Max and Iggor Cavalera formed the legendarily trailblazing heavy metal band SEPULTURA as teenagers together in 1983. Across six studio albums the Brazilian punishers perfected the art of darkness and extreme music with thrash classics such as Beneath the Remains, Arise and Chaos AD, while exploring the underbelly of third world political issues and broadening the genre's horizons with an exploration of indigenous culture, culminating with the landmark Roots album in 1996. A decade after Max left SEPULTURA and meanwhile released seven successfull records with SOULFLY, the two brothers got back together and teamed up with guitarist Marc Rizzo in 2006 to form CAVALERA CONSPIRACY: A bold testament to the talent and power this band possess together. An invigorating mixture of speed and aggression, finest thrash power and the fiercest riffage!
'Psychosis' is the fourth installment from the most lucent export of Brazil: The Thrash Metal-masters dive deep into the mire of human panic and anxiety states. This is the soundtrack to your worst sickness, a most sinister Thrash-psychoses that rip the scabs from old wounds.
With 'Psychosis' CAVALERA CONSPIRACY are able to reanimate the intensity of the good old 80s thrash, black and death metal. These brothers have outlived all the crazy eras of metal and remain more stable and frightening than ever! 'Psychosis' is terrific, in the truest sense of the word. You won't find any thrash metal on the planet that could boast more brutal!