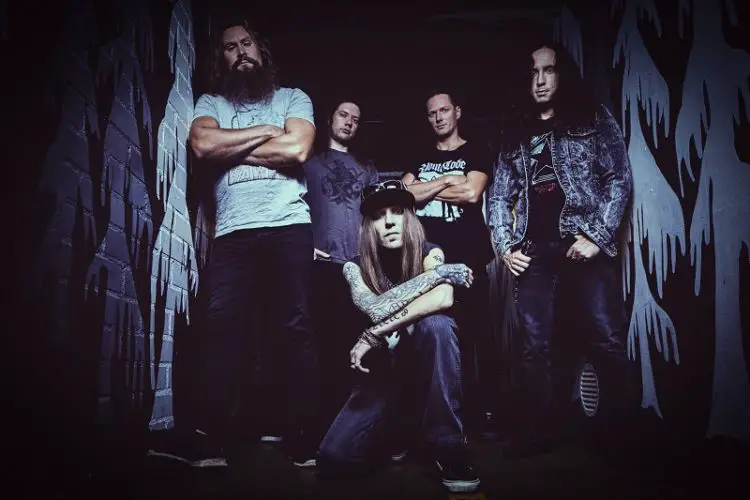 CHILDREN OF BODOM members — Janne Wirman, Henkka Seppälä and Jaska Raatikainen recently sat down with HS.fi for an in-depth interview to talk what led to their split with frontman and guitarist Alexi Laiho, who passed away in 2020.
"Alexi was the only one to do interviews about the band breaking up, and his versions diverged from the truth," they said.
According to them, the reason for the breakup was not that the three surviving members wanted to stop touring for family reasons, which is how Laiho explained it to Helsingin Sanomat in November 2019.
"We felt bad about that, also for our spouses. They'd always supported our international careers."
Surviving members said the ultimate reason for the end was Laiho's substance abuse, which is what eventually killed him a year after the band broke up.
"Addiction is an illness, and he destroyed our trust in him with his actions in our business venture. But he apologised for a lot of things, and we did work together even after the band broke up."
As they say, Laiho made a substantial income in royalties as songwriter and lyricist, but with the establishment of a limited liability company for the band in 2003, AA & Sewira Consulting Oy, all other income, from gigs to merchandise, was split equally.
Raatikainen said: "Alexi was all about the band. Major tours or manager replacements were decided democratically, by majority vote."
They revealed that The LLC paid the band members monthly salaries of up to EUR 8,000 (approx. $8450), with tens of thousands additionally paid out in dividends.
Laiho's substance abuse began to take a more serious toll on his music-making in 2008, when Children of Bodom were the supporting act for SLIPKNOT on tour.
In the early 2010s, Laiho admitted that he had messed up and promised the band members that he would not drink on tour any more.
He kept his word for a few years, and the other serious health issues he faced cut down on his other substance abuse as of 2012.
"He was really positive and happy when he was sober", Janne recalls.
Later on, Laiho wanted that the other band members buy him out of the LLC, that he would be paid his fees directly by gig organisers and that he would still pay his share of the expenses.
According to trio, LLC was still bringing in an average of about EUR 500,000 per year in 2016 and 2017, notwithstanding the financial crisis and the decline in record sales because of streaming. The members' monthly salary had been reduced first to EUR 5,000 and then to EUR 4,500 because of the declining trend.
In 2016, the company even paid out a bonus amounting to a couple of months' salary, because the company's financial performance had been so good, but that was not enough to Laiho, according to other members.
On 5 June 2018, he resigned by e-mail, writing: "i have no choice but quit the f*ckin band. U can post this to everyone," adding that he was "bankrupt."
"It got so bad that my heart raced whenever I saw that there was a message from Alexi," Seppälä said.
In March 2019, COB released their final album Hexed, and agreed to do a U.S. tour in March and April. Trio added that Laiho was dangerously underweight on the US tour in March and April 2019, and the gigs ended up being shorter than agreed, which led to a meeting in New York where their manager brought up Laiho's substance abuse. Laiho refused to go into rehabilitation but did agree to see a doctor. He was diagnosed with diabetes, and the medication prescribed did help his condition somewhat.
In summer 2019, the Finnish Patent and Registration Office received an application from Laiho's representative concerning the registration of the name 'Children of Bodom' to Laiho. He later did admit that the name of the band belonged to the LLC.
The band did a Russian tour in October 2019, where Laiho "was hitting the bottle like back in 2008," trio recalled.
Raatikainen said: "I told Alexi that you don't usually drink starting at breakfast before a gig, and now you don't even warm up with the guitar before going on stage like you always do." Laiho later said that someone in his family was sick and that he was drinking because he was sad.
Laiho then went on to send  drunken e-mails to the band manager and the other band members. In one of them, he requested that Henkka and Janne would be fired immediately after the concert in St Petersburg. On the next day, Laiho apologised and stopped drinking for the last concerts of the tour.
Band feared what would happen to Finland gigs that had been agreed for December, to which Alexi eventually turned up and remained sober for the entire tour, now as a paid employee. These were the last CHILDREN OF BODOM live shows.
Seppälä added that Alexi continued to be "closely involved" with the band "right up to the end of his life."
You can read entire interview at HS.fi.