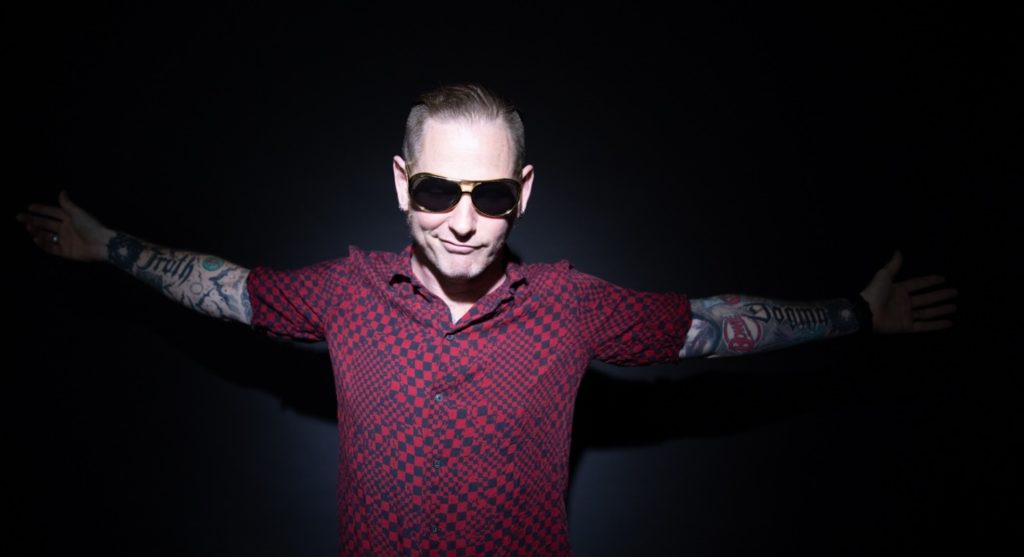 SLIPKNOT and STONE SOUR frontman Corey Taylor has shared his stripped back take on "Lunatic Fringe," the 1981 classic originally performed by RED RIDER. The song is taken from his solo album of covers and acoustic recordings, titled CMFB…Sides, which is being released today (February 25) via Roadrunner Records.
CMFB…Sides comprises nine unreleased B-sides, covers of tunes that inspired the band, acoustic renditions, and live versions. Taylor preserves the windows-down and arena-ready spirit of "On The Dark Side" made famous by JOHN CAFFERTY & THE BEAVER BROWN BAND in the 1983 film Eddie and the Cruisers, and strips the 1981 classic "Lunatic Fringe" by Red Rider down to a striking acoustic number.  Furthermore, he and his cohorts hypercharge "Got To Choose" by KISS and lock into a punchy punk gallop during "All This And More" from DEAD BOYS.  Initially recorded for The Metallica Blacklist, the EP also features Taylor's snarling cover of "Holier Than Thou" from METALLICA's The Black Album. Perhaps most surprisingly, they transform Eddie Money's "Shakin'" into a roaring banger with all of the original's swagger intact.
Plus, the EP boasts acoustic takes on "Kansas" and "Halfway Down" from Taylor's 2020 full-length debut, CMFT, and a powerhouse live medley of "Home" and STONE SOUR's famous Come What(ever) May finale "Zzyxz Rd."  This coming Monday, February 14th, Taylor will release a performance video of the live "Home" / "Zzyxz Rd" medley which was originally filmed during his epic Forum Or Against 'Em livestream from the iconic Los Angeles venue, The Forum. Fans can visit Taylor's official YouTube channel on the 14th to watch the performance.
Meanwhile, CMFT also remains another milestone for Taylor. Making history, he reached #1 at Active Rock Radio with his powerful single "Black Eyes Blue."  The achievement put Taylor in a class all his own, cementing him as the first artist in the history of the format to reach #1 with three separate projects, following chart-topping efforts from his band's SLIPKNOT and STONE SOUR. CMFT made impressive debuts worldwide  at #1 on Billboard's "Current Hard Rock Albums" chart, while claiming #2 on "Current Rock Albums," #6 on "Vinyl Albums," and #9 on the "Top Albums" charts.  Furthermore, CMFT landed Top 10 on the official album charts in Australia, Germany, Switzerland and Austria, with Top 20 debuts in the United Kingdom, Finland and Japan (international chart).
CMFB…Sides track listing:
Holier Than Thou (Metallica Cover)
All This And More (Dead Boys Cover)
Kansas (Acoustic)
Shakin' (Eddie Money Cover)
Home/Zzyxz Rd (Live)
Lunatic Fringe (Red Rider Cover)
Got To Choose (Kiss Cover)
Halfway Down (Acoustic)
On The Dark Side (John Cafferty & The Beaver Brown Band Cover)