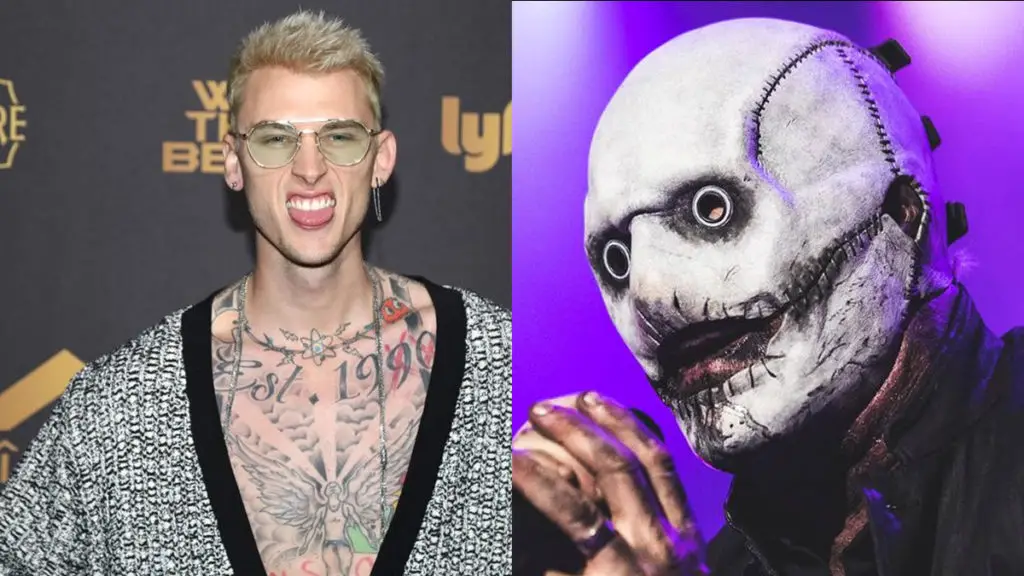 Drama between Corey Taylor and Machine Gun Kelly continues…
As reported yesterday, During a Chicago's Riot Fest over the weekend, which both SLIPKNOT and Machine Gun Kelly headlined the fourth and final day, MGK took the opportunity to throw shade at Iowa metal act, saying he was glad to not be a 50-year-old wearing a mask.
Before going into his track "Jawbreaker," MGK said to to crowd. "Hey, you wanna know what I'm really happy that I'm not doing? Being 50 years old wearing a f*cking weird mask on a f*cking stage. Fu*king sh*t. So anyway, what's everyone's favorite candy? Reese's Pieces?"
A few hours later, Kelly followed up with his comments in a tweet, saying that Taylor did a verse for his album Tickets to My Downfall and "it was f*cking terrible," so he didn't use it.
It didn't take long for Corey's response who issued a following tweet: "I don't like people airing private sh*t like a child. So this is all I'll say: I didn't do the track because I don't like when people try to 'write' for me. I said no to them. So without further ado…. #receipts. This is all I'm going to say about it."
Furthermore, Corey provided two screenshots of the emails. The first was a message that he received from BLINK-182's Travis Barker, who worked on Tickets to My Downfall with Kelly. Barker claimed that he and Kelly loved what Taylor apparently sent them, and pasted a couple of notes from MGK underneath.