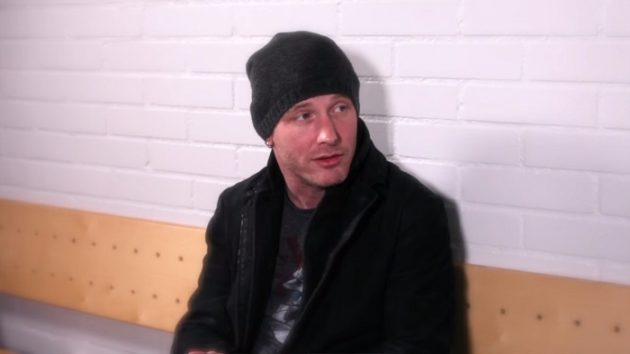 SLIPKNOT and STONE SOUR singer Corey Taylor was interviewed by Rock 100.5 The KATT's Jay Ramone at this year's edition of the Rocklahoma festival, which was held May 26-28 at "Catch the Fever" Festival Grounds in Pryor, Oklahoma, just outside Tulsa.
Speaking about the recording process for STONE SOUR's upcoming album, "Hydrograd", Taylor said: "Dude, it was the most fun I've ever had making an album. It was the easiest album I've ever made, and yet it is so strong, it's so badass. It is tight, it's fast, it's rocking, it's crushing, it's melodic, there's songs for the ladies. I mean, it's got everything you could ever want in a rock and roll album, man. And it's probably one of the things I'm most proud of in my life."
"Hydrograd" will be released on June 30 via Roadrunner.
Head on over to StoneSour.com for an instant-grat download of "Song #3" and "Fabuless" when you pre-order "Hydrograd".
"Hydrograd" track listing:
01. YSIF
02. Taipei Person/Allah Tea
03. Knievel Has Landed
04. Hydrograd
05. Song #3
06. Fabuless
07. The Witness Trees
08. Rose Red Violent Blue (This Song Is Dumb & So Am I)
09. Thanks God It's Over
10. St. Marie
11. Mercy
12. Whiplash Pants
13. Friday Knights
14. Somebody Stole My Eyes
15. When The Fever Broke