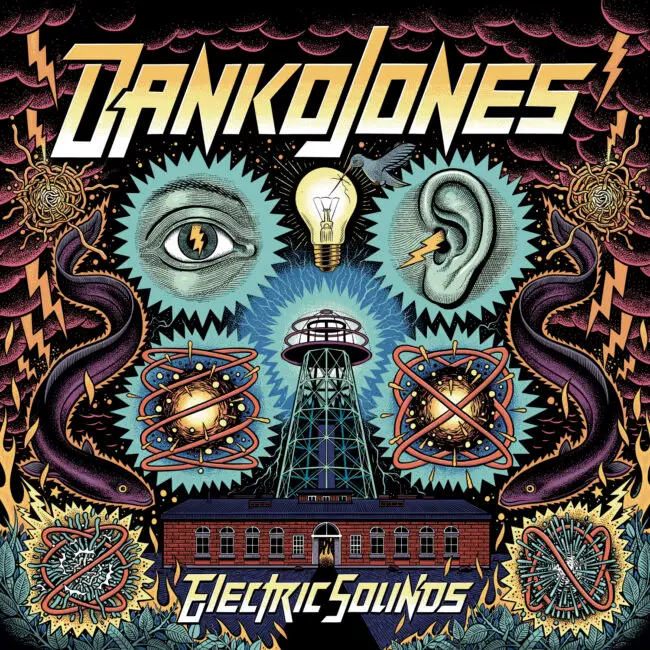 Every once in a while each Hard Rock rising star name an album as "Eletric Sounds," or anything related. It happened to The Cult with the album "Electric" and it happens now with Danko Jones, the Hard Rock rising stars of the moment. This tittle has a self-assurance essence. It's something like the band is saying we're hotter than hell. Or something else. It's not hard to get why Danko Jones got the tittle in the first place. The band rock hards – no pun intended. Their music is really functional. I mean it's simple with lots of tonal guitar riffs. The ones AC/DC used a lot in "Black and Black" and "For Those About to Rock" eras. It's no coincidence that there is a lot of AC/DC in Danko Jones especially when they do the famous chordal guitar riffing as in "Stiff Competition." However, truth is that the band has relied on many other references in this album from U2 to Mötley Crüe, more notably with the bad language… Take a look at album warmer "Guess Who's Back."
Musicwise, "Eletric Sounds" bounces from the very simple tunes with a Punk Rock influence as in "She's My Baby" and "Eye For An Eye" to more complex songwriting as in the tittle track. It's interesting how the band inserts its Punk Rock influences in a way that most fans won't notice. But listen carefully to "What Goes Around" and voilà, it's there. It's this kind of making the riff with the chords that calls the eyes. In general, though, the band is more primal with that energy that comes from the guts. Danko Jones would use other word for it, however, as we are under a contract this kind of language is not appropriate. It's also fair to say that there is some Rolling Stones in tracks as "I Like It," not only in the lyrics, but also in the music. As I said before, "Eletric Sounds" may be the most musically open album of the band.
Danko Jones aren't the most complex and intricate playing band in this sad and lonely and pathetic little planet we all live in. No, sir. The band has a heavy prone to the simple and efficient as all great Hard Rock bands are. The band is much interesting in the mundane things of this place. Useless to say they are party all night and everyday. That's the spirit, guys!
If you're in the mood for catchy choruses, gluey melodies and singalong riffs with that Punk Rock intent  "Eletric Sounds" is the album for you.
Danko Jones "Eletric Sounds" will be released on September 15th via AFM Records.
Track Listing
Guess Who's Back
Good Time
Electric Sounds
Get High?
Stiff Competition
She's My Baby
Eye for an Eye
I Like It
Let's Make Out
What Goes Around
Shake Your City
Watch "Good Time" official Live at Graspop Metal Meeting 2023 here:
1831