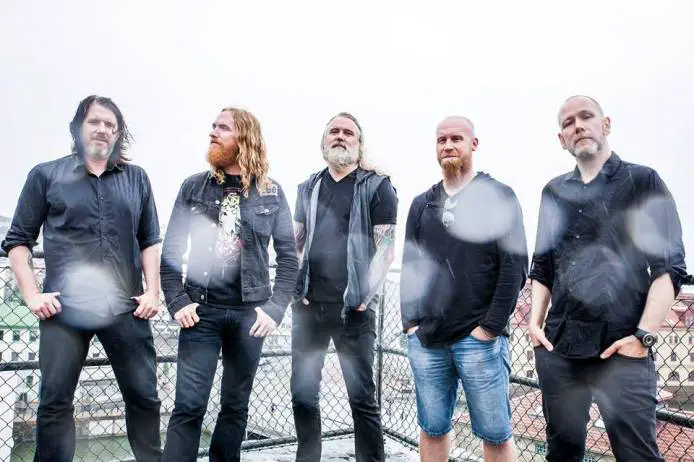 Gothenburg melodic death metal pioneers, DARK TRANQUILLITY, have now released a video for the song "Forward Momentum". You can watch it below.
The video was filmed in the far North of Sweden near Kiruna by Vesa Ranta (ex-Sentenced, The Man-Eating Tree drummer) and directed by Harri Haataja. Vesa Ranta and DARK TRANQUILLITY already share a long history. Niklas Sundin created the cover artwork for the Sentenced album "Crimson" back in the year 2000 and both bands toured together shortly after. In 2008 DARK TRANQUILLITY honored their friends with a cover version of "Broken" on the 20th Anniversary compilation of their label Century Media.
On November 4th, 2016, DARK TRANQUILLITY will release their 11th album "Atoma" worldwide through Century Media Records.
"Atoma" is available for pre-order at CMDistro.com! The album is available as Ltd. 2CD Mediabook in Slipcase (Europe only) or Ltd. 2CD Digipak (North America only), as CD Jewelcase and Gatefold LP+CD.
The bonus disc features the songs "The Absolute" and "Time Out Of Place", which will be exclusively available on the Ltd. CD editions of "Atoma" and won't appear on the digital album.
North American fans can catch the band live this fall/winter. A European tour in early 2017 will be announced soon!
DARK TRANQUILLITY live:
North America Headline tour with Swallow The Sun, Enforcer and Starkill
04.11.2016 The Gramercy Theatre, New York, NY
05.11.2016 Palladium Upstairs, Worcester, MA
06.11.2016 Trocadero Theater, Philadelphia, PA
07.11.2016 The Filmore, Silver Spring, MD
08.11.2016 Upstate Concert Hall, Clifton Park, NY
09.11.2016 Foufonues Electriques, Montreal, Canada
10.11.2016 Le Cercle, Quebec, Canada
11.11.2016 Mavericks, Ottawa, Canada
12.11.2016 The Opera House, Toronto, Canada
13.11.2016 Token Lounge, Westland, MI
14.11.2016 The Altar Bar, Pittsburgh, PA
15.11.2016 The Agora Theatre & Ballroom, Cleveland, OH
16.11.2016 Park Street Saloon, Columbus, OH
19.11.2016 Triple Rock Social Club, Minneapolis, MN
20.11.2016 Fubar, Saint Louis, MO
22.11.2016 Bluebird Theater, Denver, CO
25.11.2016 Rickshaw Theatre, North Vancouver, Canada
26.11.2016 El Corazon, Seattle, WA
27.11.2016 Hawthorne Theatre, Portland, OR
28.11.2016 PBJ's, Reno, NV
29.11.2016 Slim's, San Francisco, CA
30.11.2016 City National Grove, Anaheim, CA
01.12.2016 Brick By Brick, San Diego, CA
02.12.2016 LVCS, Las Vegas, NV
03.12.2016 Club Red, Mesa, AZ
05.12.2016 Trees, Dallas, TX
06.12.2016 Cine El Rey, Mcallen, TX
07.12.2016 Scout Bar, Houston, TX