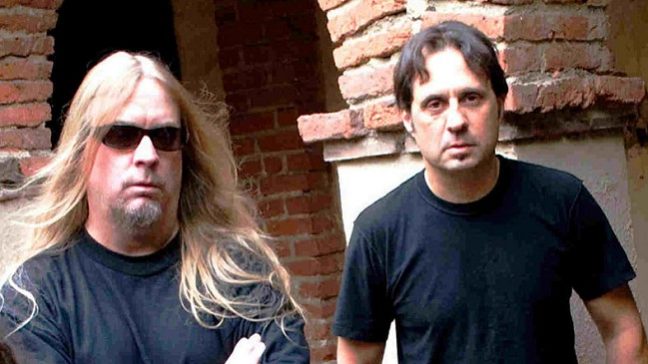 During an appearance on the TODDCast Podcast, former SLAYER drummer Dave Lombardo looked back on band's early days and also talked about the influences pank had on the group.
"Yeah, it was [Jeff] Hanneman. Hanneman shaved his head and brought to rehearsal all these punk records, and punk music was, I guess, the combination of everything I was searching out as a kid," Dave said.
"Whenever there was a song on the radio that had a certain aggressive feeling or a certain excitement, I would search that record out. For example, there was a song I heard on the radio as a kid from ZEPPELIN, and I never heard the song before, it was called 'The Wanton Song' [from 1975's Physical Graffiti].
"I was, 'Wow, this is heavy as f*ck,' I couldn't believe it. I was, 'Man, this is heavy.' And I remember going to a friend's house, 'Hey, do you know the song called 'The Wanton Song,' have you heard of it?' He said, 'No.' I said, 'Do you have any ZEPPELIN records?', and he said, 'Yeah, I got a couple there.'
"So I went through and I couldn't find it. Then later I found out that it was on Physical Graffiti; I purchased it, and loved it, and absorbed and listened to that album religiously.
He continued: "So, punk music was all the styles that I loved, which is heavy, powerful, aggressive, angry, and so it kind of filled that need, for that style of music. So I gravitated towards that, it was something I enjoyed.
"SLAYER would've been a whole different band if punk music didn't influence us. We would've been totally different. It was that magic moment that Hanneman brought into rehearsal that changed everything."
When asked what early SLAYER days looked like, Lombardo responded: "We didn't care about anybody thought. We wanted fame, we wanted success, we wanted to be on top of our game, we wanted to blow away every band that we would play on stage with.
"It's very typical that at that age you want to rule the world," he added. "And we had the tools, and we had the means, so that's what we tried to do."
SLAYER played its final show of their farewell tour last November at the Forum in Los Angeles. One day later, Kerry's wife, Ayesha King, said that there is "not a chance in hell" that the thrash metal icons will reunite for more shows.