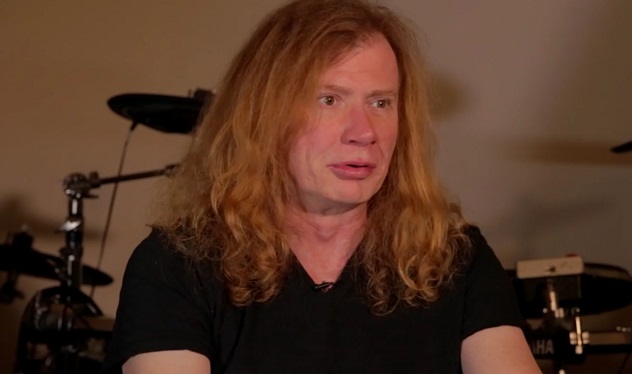 Dave Mustaine explained in a new video on Periscope why MEGADETH canceled it's meet-and-greets on the European leg of the "Dystopia" tour.
He says, "We were doing meet-and-greets with a company, and they did not send a representative over here to Europe with us, and we're supposed to be doing this right. "And since the meet-and-greets are not up to par, that I believe you deserve, and I believe that it should be done really, really cool, like we used to do it, they've been canceled. We told them several days ago that we canceled them."
He continued: "It just goes to show you… I'm in Israel right now, and people are saying, 'Where are you? Where's the meet-and-greet?' Evidently they never told anybody. So I'm sorry that these guys did not inform you. I'm hoping that this is not true, but we're gonna get to the bottom of it. And until this is done right and done the way that I believe that you deserve, which is the most kick-ass fucking time you can possibly ever have, then you know what? I'm just gonna have to… just wait until I can hang out with you guys in person. It's a bummer. Ellefson's pissed, Kiko's pissed, Dirk's pissed, we're all pissed. This is part of the time when we get to talk with you guys and hang out."
MEGADETH has announced SOILWORK drummer Dirk Verbeuren as a replacement for Chris Adler on drums for upcoming show due to Adler's commitments to LAMB OF GOD.
MEGADETH's new album, "Dystopia", debuted at number three on the Billboard 200 chart, right behind Justin Bieber and Adele, resulting in the band's highest charting album in 24 years
"Dystopia" opened with 48,000 copies, marking MEGADETH's highest-charting album since 1992's "Countdown To Extinction" debuted and peaked at No. 2 on the chart dated August 1 of that year. "Dystopia" also logs the group's best sales week since 2007, when "United Abominations" landed at No. 8 with first-week sales of 54,000.
https://youtu.be/wS6t8rPy33I