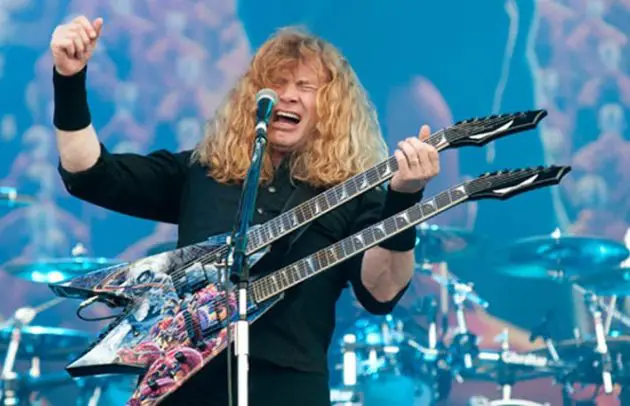 MEGADETH mainman Dave Mustaine was asked by a fan on twitter would he be willing to stand in for late Dimebag Darrell in PANTERA if asked, to which Dave replied: "I'm the wrong guy for that. Check out Nick Bowcott from GRIM REAPER. He is a Dimebag clone. Excellent guitarist!"
In a recent appearance on the "Trunk Nation" show on SiriusXm channel Volume, if he has commenced work on music for the next MEGADETH disc. Mustaine replied:
"A little bit. I'm being particular, because I figured if I can at least do as good as 'Dystopia', then we're great. And I believe I can do that.
He continued: "Going into the studio now, I'm gonna have Kiko [Loureiro, guitar] and Dirk [Verbeuren, drums] come out, and we're gonna start writing," he continued. "And it's gonna be exciting for me, because Kiko's just a wealth of talent as far as guitar playing is concerned. And after Chris[Adler, LAMB OF GOD] got into the studio and inspired me with his modern drumming, Dirk was the drummer that Chris actually recommended for us. Knowing how much Chris is a fan of MEGADETH and how much he wanted to play with us, he knew he couldn't and said that Dirk was the guy. And Dirk definitely is the guy — he's got some talent that I can't wait to unleash in the studio."