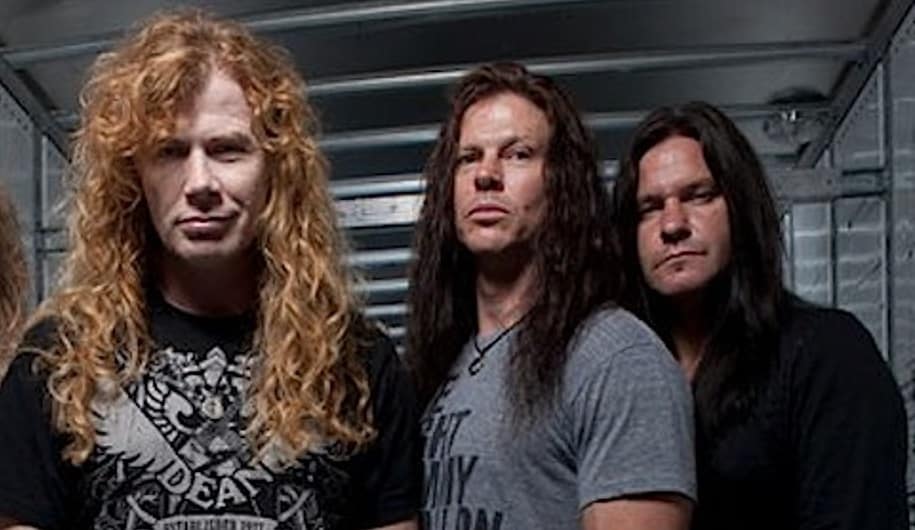 Dave Mustaine has explained why guitarist Chris Broderick and drummer Shawn Drover left MEGADETH.
Towards the end of 2014, Drover left the group after a decade, as he wished to explore his personal musical passions. Soon after, Chris Broderick also exited the band, citing creative and musical disagreements as the reason.
Now, in a new interview with Guitar World, Mustaine revealed what led to the departure of Broderick and Drover.
"We had gotten a tour with IRON MAIDEN, but the whole thing ended because Bruce [Dickinson, IRON MAIDEN singer – who was battling throat cancer at the time] got sick. In the blink of an eye, an entire year's worth of work was canceled, which was financially devastating for Shawn and Chris. 
"So, the management we had took it upon themselves to call Shawn and Chris and say, 'The tour is now canceled; you should probably go find another job.' But I didn't know about this; all I knew was that my drummer and guitarist had quit. I understood the circumstances, and I might have done the same thing, but I would have f**king told me before I went and quit. 
"Having me find out afterward tells you all you need to know about Shawn and Chris's characters. But it's okay; they've got MEGADETH on their resume. We had some good times together there for a bit."
In a 2016 interview with Ultimate Guitar, Broderick said about the circumstances that led to his decision to quit MEGADETH: "I wouldn't say it's necessarily artistic and musical differences as much as it is the ability to express my musical and artistic choices. Everybody knows that MEGADETH is really Dave [Mustaine] and that's fine."
Asked if he have known when he joined MEGADETH that Dave Mustaine was captain of the ship, he responded: "I knew that going in. But there comes a time where you're like, "I've done this and it's great but I'm a musician and artist at heart and I need to express myself that way. So I need to have that outlet for myself and not just do it in support of another person."
Regarding how MEGADETH was run, Broderick said: "It wasn't a democratic or an equal band in terms of the decision-making process. And again, I was totally fine with that at the time. It was awesome for my career and it was great playing for all those fans but at some point, when do you decide you're gonna be a musician and really create your own music or are you just going to record what somebody else wants?"
Asked if he would stayed in MEGADETH if he had been given more input and creative freedom, Chris said: "Oh, yeah. Definitely."
MEGADETH's 16th studio album, The Sick, The Dying… And The Dead!, was released in September 2022 via UMe.